Who knows Ireland Best?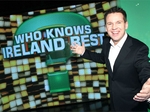 Presented by Derek Mooney, with RTE's first television app, this brand new gameshow format sets two teams against each other and a survey of 1000 people across the nation and asks them 'Who knows Ireland Best?'
We've asked a cross section of the public 100 probing questions about everything from their manners and morals to their hopes and expectations. It's a census of our self-esteem, a survey of our cultural body image. After the death of the Celtic Tiger, we stop the clock and assess who we are right now in a fun, irreverent way.
The questions are entertaining but are underpinned by scientific veracity. They take us to the very heart of Ireland. The specially commissioned survey asked cheeky questions to find out what we really think. The respondents were ordinary people of every age from all corners of the country.
Which of the teams is most in touch with the public? Who has their finger on the pulse? There are laughs aplenty as we hear their own answers to the sticky questions. The contestants are drawn from the public. There will be Cabbies verses Models, Students verses Mammies and Tattooists verses Hoteliers - a diverse cross-section of the nation to match the survey itself.
About the survey
One thousand people living in the Republic of Ireland were surveyed for Who Knows Ireland Best? Big Mountain Productions commissioned MillwardBrownLandsdowne to carry out the survey.
MillwardBrown Lansdowne are a leading international market research company based in Dublin with over 40,0000 voluntary survey participants living in the Republic of Ireland.
Millward Brown can ensure the sample of participants is representative by imposing quotas on gender, age, social class and region and then weigh the responses back to reflect nationally representative proportions. This is standard procedure for projects where it is necessary to reflect the population breakdown.