Who Do You Think You Are? USA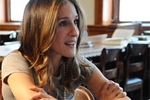 This show takes viewers on an inspiring and personal journey into the past of America's best-known celebrities, sharing their emotion and surprise as they uncover stories of heroism, tragedy, love and betrayal that lie at the heart of their family story.
Their travels to discover their relatives take us back in time and around the world as we see how their ancestors' lives have shaped the world they live in today.
This engaging series exposes the real person behind the celebrity as they come to understand who they truly are, the lives their ancestors lived and their identity and place in their country's history.
Who Do You Think You Are? provides a unique glimpse into the personal lives of celebrities at the same time as taking viewers on a quantum leap through history.
The celebrities who will be exploring their family histories in the brand new American version of Who Do You Think You Are? will be Sarah Jessica Parker, Susan Sarandon, Matthew Broderick,
Lisa Kudrow, Brooke Shields and Spike Lee.
Programme 1: Sarah Jessica Parker
Sarah Jessica has always assumed that her ancestors were recent immigrants to the United States. She knew that her mother was born and raised in Cincinnati's German community, like her parents and grandparents before her, but didn't know much more than that. However, a visit to her mother reveals a distinctly non German sounding ancestor - Lillian Hodge.
Intrigued by this, Sarah Jessica heads to Cincinnati, where she discovers her ancestor, John Hodge, died on a journey to California in 1849. Wanting to know more, Sarah Jessica travels to the gold fields of northern California.
Digging further back, her journey takes her to Colonial New England where she uncovers a collection of 17th Century trial papers, revealing that another ancestor was involved in one of the most terrifying events in American history.
RTÉ One, Thursday 27 May 2010, 10.25pm