Who Do You Think You Are? USA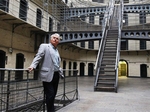 Who Do You Think You Are? provides a unique glimpse into the personal lives of celebrities while taking viewers on a quantum leap through history.
This engaging series exposes the real person behind the celebrity as they come to understand who they truly are, the lives their ancestors lived, their identity and their place in the country's history.
Episodes
Programme 1 - Martin Sheen

With a career spanning more than a half century, actor Martin Sheen is one of Hollywood's most versatile icons. Known for roles in "Apocalypse Now" and "The West Wing," Martin often lets his passion for political activism guide the roles he chooses. Born Ramon Estevez to Spanish and Irish immigrants, Martin and his wife for 50 years, Janet, live in Malibu, California and have four children together: Emilio, Ramon, Carlos (Charlie) and Renee.
Programme 2 - Helen Hunt
Accomplished actor, writer and screenwriter Helen Hunt has worked on more than 80 films, TV shows and Broadway plays in a career that began in childhood. She rose to fame playing Jamie Buchman on the NBC hit show "Mad About You," a role that earned her four Emmy awards. For her performance in the feature "As Good As It Gets," Helen won an Academy Award for Best Actress. She currently lives in Los Angeles with her partner Matthew Carnahan, her stepson Emmitt and daughter Makena Lei. Helen does not know much about her ancestral past besides the fact that her family has lived in Los Angeles for several generations. Helen's father doesn't know much about his ancestors either, partially because a drunk driver killed his mother when he was just five years old.
Programme 3 - Marisa Tomei
Actress Marisa Tomei first shot to fame in the movie "My Cousin Vinny," a performance for which she was awarded an Oscar for Best Supporting Actress. It would be the first of many award nominations to come, including two more Oscar nominations for "In the Bedroom" and "The Wrestler." Marisa grew up in Brooklyn, New York, but she currently resides in Los Angeles, California. Her strong family ties often bring her back to New York where her parents, Gary and Addie Tomei, still live.
Programme 4 - Reba McEntire
Beloved as the queen of country, singer Reba McEntire is the best-selling country music artist of all time. Reba's talents have taken her far beyond the world of music, most notably in her award-winning hit sitcom "Reba." Reba and her husband Narvel Blackstock live in Nashville, Tennessee with their son Shelby. Reba credits her upbringing amongst the cowboys of Oklahoma for her success in the music industry; she spent the early part of her life in the rodeo as one of her father's hired hands and learned the value of hard work and performance. "I want to know where we came from. I want to know what makes me tick. I would love to go far back as possible. I am very interested in knowing who the first of my ancestors were to step on the United States of America," Reba says.
Programme 5 - Rita Wilson
Actress, producer, and singer Rita Wilson has appeared in over 60 films and television shows. A passionate Greek, Rita helped bring "My Big Fat Greek Wedding" to the silver screen, which became the highest grossing independent film of its time. Rita and her husband Tom Hanks live in Los Angeles, just 10 minutes from Rita's mother, Dorothy. "My mother is Greek," Rita explains, "and my father was born in Greece but at some point as a child moved to Bulgaria." Rita knows a lot about her mother's family, as she was eager to talk about her past, but her father, Allan, always refused to talk about his. Allan died two years ago and Rita hopes this search will help her fill in the blanks of his story.
Programme 6 - Edie Falco
Acclaimed actress Edie Falco is best known for her TV, film and stage portrayals of tough female characters. Her performance as Carmela on the hit series "The Sopranos" earned Edie three Emmys and five Screen Actor Guild awards. Her current starring role in "Nurse Jackie" garnered Edie yet another Emmy, making her the first ever to win an Emmy for Outstanding Lead Actress for both a comedy and a drama.
Programme 7 - Rob Lowe
With a career spanning more than 30 years, actor Rob Lowe is revered as one of Hollywood's leading men. His breakout performance in "The Outsiders" launched a flourishing career in both film and television. He received critical acclaim for his portrayal of Sam Seaborn on the Emmy winning series "The West Wing" and currently plays the enthusiastic Chris Traeger on the sitcom "Parks and Recreation." He lives in Santa Barbara, California with his wife Cheryl and two sons John Owen and Mathew.
RTÉ One, Mondays, 10.55pm
Video