Aftershock: Where to Now?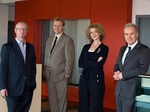 Aftershock: Where To Now? is a one-off documentary made up of four specially-commissioned television essays which take stock of where we are now as a nation and argue for radical change if we are to emerge from the current recession with real and lasting success.
On Monday 10th May at 9.30pm on RTÉ One, four of our most astute commentators - Dan O'Brien, Matt Cooper, Richard Curran and Justine McCarthy - will cast a cold eye on the electoral system, our debt burden, current jobs strategies and the Constitution.
They will offer challenging and innovative ideas on how the political system and the Constitution could change to make Ireland a more accountable, transparent and equal nation, and present their ideas on how we are dealing with the jobs crisis and the increasing numbers of homeowners now struggling to pay off mortgages across the country. The documentary will be followed by a special Aftershock edition of The Frontline, in which our four commentators' ideas will be put to the test live in studio.

RTÉ One, Monday 10 May 2010, 9.35pm
Useful Links