When the Au Pair Comes to Stay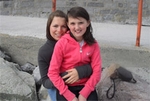 When the Au Pair Comes to Stay is a four part multi-cultural series which offers a unique glimpse into Irish family life.
With more parents working outside of the home affordable childcare has become a burning issue for Irish families today. As a result, thousands of parents invite foreign students to live in their homes to mind their children as the family's au pair. Each week we will follow the experiences of one family and their new au pair.
Programme 1
The first episode follows 21-year-old Heidi Bartsch as she swaps her rural life in Herborn, Germany for Galway. Ann Lally Leyden lives in Galway city with her three children Caoimhe (14), Fiachra (10) and Aoibheann (8). Ann has lost count of the amount of au pairs she's had. Over the years the reason for her needing an au pair has changed. When Ann and Mike separated an au pair became vital to the running of the house. Ann needed the support and the flexibility that an au pair brings to the running of her busy household.
What will the 21-year-old make of domestic life with working mom Ann and her three children? Heidi has never been to Ireland before. But she has 'read a lot of books and saw lots of movies about the great countryside of Ireland'. Heidi has done lots of babysitting in Germany but she has never looked after children full time. How will the straight-laced German cope with the madness of this young family?
Programme 2
Vera and Charles Asu Bisong have three children. Michael (6), Susan (4) and the youngest is Cathal who is two. They moved from the Cameroon in 2002 and live in Rathfarnham, Dublin. When Susan was born, Vera's mum came to live with them. She was a great support to Charles and Vera as they were both still studying in UCD. Now that the children are getting older, Vera can't expect her mum to look after all day while Vera and Charles are at work.
Marion will be the family's fourth au pair. The family is on the go from early morning and it's a busy household. English is the family's first language and French is their second. Vera and Charles are very keen that the children start to learn French. They feel guilty that as their lives have gotten busier, they have just not had the time to teach them.
Marion Esnault is 19-years-old and she lives in St Germain outside Paris. Marion lives with her parents and her two brothers aged 12 and 16. This is the first time that she will be away from her family. Like her host mother Vera, Marion is studying Law. Marion wants to travel to Ireland to learn about the country, the culture and the people. She is curious to see how other families and people live their lives. This will also be her first time in Ireland.
Programme 3
Barry and Margaret Moore live with two of their daughters, Marsha, 14 and Phoebe, 12. Their eldest daughter, 22-year-old Rae, is studying architecture in Switzerland. They have an extremely busy household. They're a career focused couple with a lot on their plates and they need help. Lucia will be their 10th au pair.
Lucia, 23, is from Zaragoza in Northern Spain. She has a university degree in primary school teaching. However to further her teaching career she wishes to improve her English and for this reason she has decided to au pair in Ireland. This will be her first time in Ireland and the only thing she knows about is that its very cold. Lucai believes that her ability to work both independently and with others is a very important feature of her character.
Programme 4
In the final episode Mathilde will au pair for Emma and Mark O'Flynn and their two young sons Ethan (2) and Ewan (1). Mathilde is the O'Flynn's first ever au pair. Emma works as a paramedic and Mark is a soldier with the Irish Army. Emma and Mark decided to get an au pair as Mark is going to Chad on his first tour of duty with the Army.
Mathilde was a flight attendant, however she lost her job due to cuts with the airline. She thought she would take advantage of the situation become an au pair to improve her English. Mathilde has never worked as an au pair before so it is a first for both Mathilde and the O'Flynns.
How will the timid French girl cope with the boisterous Limerick boys?
RTÉ One, Friday 21 May, 2010, 7.30pm
RTÉ One, Friday 28 May, 2010, 7.30pm
RTÉ One, Friday 4 June, 2010, 7.30pm
RTÉ One, Friday 11 June, 2010, 7.30pm