What in the World?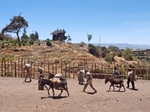 What in the World? returns this autumn with another series of seldom-heard stories of struggle and resistance from across the globe.
From the conflict-ridden Democratic Republic of the Congo to post-conflict East Timor, now known as Timor Leste, to the Ethiopian and Honduran highlands, Peadar King brings more compelling stories of the disfavoured and the dispossessed as well as presidents and politicians to RTE audiences.
Now in its sixth series and having filmed in thirty-one countries in Africa, Asia and Latin America, What in the World? has garnered a reputation for telling stories of intense pain and suffering, of small triumphs and occasional advances, of betrayal and complicity, of utter resilience and stout defiance.
Episodes
Episode One: Democratic Republic of the Congo - Leaving the Conflict Behind?
At the heart of Africa, the Congo for many people will always be associated with Joseph Conrad's early twentieth-century novel the Heart of Darkness, a title that has become a by-word for the country. And for Benjamin and David, two former child soldiers, and Funaha held as a sex slave by one of the many militias that continue to terrorise the country that metaphor remains a daily reality. The film explores how this seemingly never-ending conflict impacts on the people of North Kivu.
Episode Two: Timor Leste - Timor's Trauma
For over 24 years, East Timor endured a crushing occupation inflicted on them by neighbouring Indonesia on the pretext of the fight against communism. The trauma from that period lives on as evidenced by the testimonies of Nelson Belo, Gregorio Saldanha and Pascal Oliveira survivors of the infamous 1991 Santa Cruz massacre. This film recalls the trauma of Timor Leste in this the tenth anniversary of its independence.
Episode Three: Honduras - Log On
Deep in the forests of Honduras unimaginable riches lie. Riches and beauty too. But within these forests temptations also lurk. Temptation to log on whatever the consequences. And it is because of the adverse consequences of wholesale illegal logging that Rene Gradiz and the Olancho Environmental Movement have mobilised to protect their forests, a mobilisation that has cost them dearly.
Episode Four: Ethiopia - Beyond the Lens of Famine
Indris Seid Yimer and Emyet Assen Woraki's lives have been utterly transformed in the last thirty years. In 1984, they, their families and their community were engulfed in famine and devastation, a famine memorably described by BBC journalist Michael Buerk as "the closest thing to hell on Earth". Set in the Wollo area, the epicentre of the 1984 famine, the film tells their story. Others also feature. People like entrepreneur Samuel Alemu and financier Ermyas Amelga. It also features the hauntingly beautiful UNESCO World Heritage site in Lalibela.
RTÉ One, Tuesday, 11.05pm