What in the World?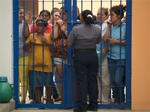 Now in its ninth series, What In The World? reports from the emerging world on a variety of global affairs issues. This year's four part-series includes a report from Libya on how that country continues to tear itself apart post the Gaddafi regime and a look at the human cost of prison regimes in El Salvador.
Episodes
Episode 1 - Yo Cambio - El Salvador - 1 December , 11.15pm
El Salvador's prisons are bloody and brutal. And overcrowded. And with one of the highest homicides rates in the world and with 700 arrests a day that level of overcrowding shows no signs of abating. But rather than give up on prisons and prisoners the people who are running the prison service have decided to change tack and reform the system. Their response is Yo Cambio. First change: the language. No longer referred to as inmates or prisoners now the incarcerated are referred to as people deprived of their freedom. This is an exploration of what a human rights-based approach looks like. How they did it and what people deprived of their freedom think of it.
Episode 2 - R & R in Libya (Revenge & Reconciliation) in Libya
Gaddafi's demise did not result in the hoped-for democratic revolution. Four years on instead of forming a democratic and functioning state, the revolutionaries are fighting each other. Libya's recently elected House of Representatives has fled to the eastern city of Tobruk as an alternative government has established itself in Tripoli. Thousands of people detained in 2011 are still in prison and without a fully functioning justice system look likely to remain there for some time. Widespread availability of guns feeds the instability. The challenge of reconciliation remains. Meanwhile there is Isis to consider
Episode 3 - Venezuela - The Pull of the City
Caracas is the most urbanised city in the most urbanised country in the most urbanised region of the world. Nine-three percent of the population of the country live in urban areas. The city has a population of 2.1 million and 5.1 million depending on where the boundary is drawn. The boundary keeps shifting outwards and upwards. And the city continues to draw people in, not just from within Venezuela and neighbouring countries but also from The Caribbean most notably from Haiti. Not only are Latin America's cities stretched way beyond their capacity but they are also the most unequal in the world.
Episode 4 - Western Sahara - Going Home
For forty years now the Sahrawi people have lived in exile. Their home: five refugee camps in one of the hottest parts of the desert where summer temperatures reach over 50 degrees centigrade. Having fled the Moroccan invasion of Western Sahara their homeland over 100,000 people now live in what is in effect an open prison where they are completely dependent on the World Food Programme for their survival. Yet they continue to dream of the prospect of returning to their homeland in northwest Africa. After years of frustration, armed conflict and broken UN promises many of the young are contemplating a return to war.
RTÉ One, Tuesday, 11.15pm