What Are You Eating?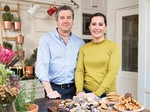 In a second season of the popular food series What Are You Eating?, Philip Boucher-Hayes continues his journey of discovery into how and what we eat in 21st century Ireland.
This time, over six episodes, he serves up twenty four hours of Irish mealtimes beginning with the pre-gym snack and finishing with a late night takeaway.
Keeping an eye to current trends, he looks at food fashion and fads, tries a lifestyle change by hitting the gym, and finds out how our increasingly busy lives are shaping every single aspect of what we eat and how we think about food and cooking.
Chef Hilary O'Hagan-Brennan returns to delve into how some of our favourite foods are made whilst at the Food Lab scientist Billy Coleman reveals some surprising results in a series of scientific tests.
Episodes
Episode One
It's almost comical to point out but while, as we're told, a sizable percentage of the population is heading toward obesity, others are getting leaner and meaner.
Terms like shredded and ripped are a normal part of young male conversation today while the internet is full of nutribabble noise and bro-science advice. But hard body perfection ain't easy to achieve, it involves a regime of diet and high intensity exercise that's not for the fainthearted.
In this season's lifestyle challenge Philip Boucher-Hayes follows an online course that promises him a ripped physique in just 28 days. Can he do it?
In the kitchen, chef Hilary O'Hagan-Brennan tries to make Philip a high protein shake without using whey powder while dietitian Aveen Bannon supervises his meal plan and personal trainer Matt Keatley puts him through his paces in the gym.
In the food lab, Philip finds out if Hilary has managed to pack as much protein into her gymtime shake as the commercial version.
RTÉ One, Wednesdays, 8.30pm