Welcome To My World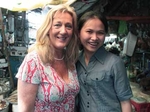 Ever thought that the best way to see a foreign country is with a local? Welcome to my World does just that.
Welcome To My World is RTE's popular travel series where a person, recently settled in this country, brings an Irish person back to their homeland.
Episodes
Programme 1
In the first episode Limerick woman Sandra O' Loughlin goes to Vietnam with her friend and cookery teacher, Vân Hayes. Together, they explore Vietnam and the life Vân left behind seven years ago.
Vân's father fought against the Viet Cong during the Vietnamese war which ended in 1975. Now he teaches English to children. Sandra takes a class and introduces them to English, with an Irish accent.
Sandra and Vân visit the Cu Chi tunnels, an underground labyrinth of tunnels where the Viet Cong took refuge, now a war memorial. They take to the crazy streets of Ho Chi Minh City on motorbikes, get traditional dresses made, explore colourful street markets and go to the wedding of Vân' s best friend.
Programme 2
Dublin born and bred, Will Flynn, heads to Jamaica with his former flat-mate, Garry McKnight. Garry came to Ireland on an invitation of an Irish couple who got married in the hotel he worked in. Life has never been the same since! Now, the owner of a pizza company in Donegal, he is delighted to head back to Montego Bay to visit his mother and take Will along for the ride.
Will gets to see the good and the bad side of life in Jamaica. Expecting great weather, the pair experience Hurricane Tomas soon after they arrive. Will is astounded by the poverty and the resilience of the people. He enjoys the food, the music and an insightful visit to the Bob Marley memorial. And of course there' s a family reunion for Garry.
Episode three features a Nigerian woman and her Irish fiancé, episode four a Lebanese
woman and her Cork friend.
Programme 3
Kildare man Stephen Doggett is a technician with Boston Scientific. He met his Nigerian fiancée Membe when she was living next door. They now live in Athenry and have two children.
Stephen has never been to Nigeria and Membe hasn't been back in seven years. Together they visit the crazy city of Lagos and travel to the isolated village of Gbaya to meet Membe's mother, five sisters and three brothers.
Gbaya is a village with no television, electricity or running water and people rarely leave, so the return of Membe with her white partner is a cause for much celebration and curiosity.
Programme 4
Sabine Menassa, from Lebanon, lives in Cork. She is married with a three-year-old daughter and in her spare time teaches bellydancing. Her friend Kim Thompson is a flight attendant with Aer Lingus. The two became good friends when Sabine got seriously ill and Kim looked after her daughter.
Sabine is keen to show Kim that Beirut should not be synonymous with war and destruction and that Lebanon is a beautiful country. Kim is keen to see the country where her brother in law worked as a peacekeeper.
Together they visit Sabine's family, go dancing and explore this fascinating country.