TV50: Weather Permitting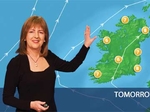 Weather permitting is a one hour RTÉ documentary on our weather and its TV forecasters, looking at the science, beauty, folklore and future impact of this elemental force in our lives.
RTÉ and Met Eireann have been broadcasting weather forecasts on television for 50 years. Against the background of profound changes in physics and astronomy, evolution of science, use of satellites, we look at the relationship of Irish people with their weather. And we examine the changes in climate and science to see what the shape of Ireland will be over the next 50 years.
Weather has shaped almost everything about us, from farming to literature, folklore to politics. We meet people who have been affected by it and others who depend on it. We look at the influence of weather on language and art. And we examine the phenomenon of climate change and its impact on Irish lives and our urbanised landscape.
Gerald Fleming brings us behind the scenes in Met Eireann where we see the forecasters and their colleagues at work and learn about the challenges they overcome to accurately deliver weather forecasts. In the documentary, we meet pioneers such as Paddy McHugh, one of the very first TV weather forecasters; Charlie Bird talks about Hurricane Charlie; and John Gormley about how the weather influences Irish voting. From the Donegal postman who uses traditional weather forecasting and the early weathermen who cycled out to RTÉ in Donnybrook (as did Gerald Fleming) with hand-drawn charts and magnets to the satellite pictures of today, Weather Permitting brings us the humour, beauty and science behind forecasting.
Through the years there has been an interesting working relationship (and creative tension) between two disciplines - the physicists and the broadcasters. This relationship has been as enduring as our interest in and dependence on the weather forecast.
RTÉ One, Sunday 22 July 2012, 6.30pm