Vermeer, Beyond Time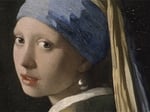 This documentary chronicles the life and times of Johannes Vermeer, one of the most loved, treasured and well-known artists in the world today. Images from his paintings have become part of our collective imagination and are instantly recognisable.
In his new feature documentary, Vermeer, Beyond Time, French filmmaker Jean-Pierre Cottet adopts an imaginative and sensitive approach to his subject focusing on the work itself but also choosing to explore Vermeer's family life including his conversion to Catholicism, his artistic contemporaries and the wider world of the short lived Dutch Golden Age of the 17thCentury.
Cottet's film explores the individual paintings and teases out what has come to be known as the Vermeer style; the representation of light, the interplay of colour and the effects of perspective across the same themes, places and objects.
Vermeer's paintings are of a world inhabited by refined and cultivated women; respectful or troublesome servants; charming young people and learned men. His ruthless elimination of objects and things that serve no purpose results in an art that suspends time and that leaves us, the viewer, always wanting to know more. The film adds much to our understanding and knowledge of the painter, while still allowing for the mystery and allure of his art.
Vermeer's death in 1675 was sudden and incredibly sad. Overwhelmed by poverty, physically weakened and humiliated, he died at the age of 45. Soon afterwards, his paintings were sold to cover his debts. Vermeer disappeared from memory. His rediscovery some 200 years later has seen his popularity soar, claiming both our hearts and our admiration.
This documentary is screened during the exhibition Vermeer and the Masters of Genre Painting: Inspiration and Rivalry, organised by the National Gallery of Ireland in collaboration with the Musée du Louvre, Paris, and the National Gallery of Art, Washington. The exhibition continues until mid September.