Use It or Lose It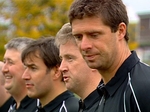 Use it Or Lose It' is a series of programmes for RTÉ featuring a different sports celebrity each week who goes back to their old youth team with the aim of reforming the old boys/girls, whipping them into shape and getting them ready for one final game. Eight former sports stars will be returning to their old stomping grounds in the hope of re-living former glories.
With personal trainers, nutritionists, coaches and physios at hand to aid the players, health problems will be followed up and professional coaches will conduct regular weigh-ins, blood pressure and lung capacity testing on a regular basis, suggesting workouts and diets suited to the physiques of the team members.
Competitiveness never dies so those who haven't notched up much of a score in the game of life will be anxious to prove themselves once again on the pitch - and those who have totted up a respectable goal average won't want to be shown up by a bunch of losers. Old friendships and old rivalries will reinstate themselves as everyone gets to know each other all over again.