Up for the Match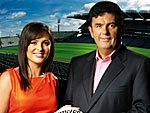 Welcome back to another year of Up for the Match, the programme that brings you all the pre- All Ireland GAA finals excitement.

Presented by Des Cahill and Grainne Seoige, Up for the Match will feature a host of well known faces as well as personalities from the competing counties. We'll be getting the views and thoughts on the eve of the big day from former players, pundits and fans. There will live music on the night plus one lucky person at home will get a chance to win one of the last pairs of tickets to the final itself.

This year we see Kilkenny V Tipperary battling it out for the All Ireland Hurling Final on the 8th September 2014 in Croke Park.

The football semi- finals are Mayo v Kerry on the 24th August and Dublin v Donegal on the 31st August with the All Ireland Football final taking place on the 21st September 2014. .

Up for the Match will host its pre- All Ireland Final Hurling show on the 7th September and its pre- All Ireland Final Football show on the 20th September.

If you would like tickets to either of the above shows please fill out and complete the application form below and Email it to upforthematch@rte.ie

CLICK HERE to download Application Form for tickets to the UP for the Match pre- All Ireland Final hurling show on the 6th September
CLICK HERE to download Application Form for tickets to the UP for the Match pre- All Ireland Final football show on the 20th September
Applicants may only apply for one show

You can also follow us on https://www.facebook.com/upforthematchrte#!/upforthematchrte and TWITTER: @UFTMRTE