Unwrapped! The Toy Show!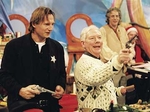 Unwrapped - The Toy Show! gives a unique insight into the history and production of the greatest toy show on television.
The programme reunites child participants of past shows with the toys they reviewed, with exclusive interviews about the show from, Gay Byrne, Pat Kenny, Ryan Tubridy, Louis Walsh, Westlife, Dara O'Briain, Angelina Ball and more.
Raiding the archives for the show's most memorable participants, events and performances as well as exclusive access from behind-the-scenes in the lead into this years toy show, the documentary makes for a magical watch on Christmas Eve.
The show also reveals Gay, Pat and Ryan's intimate thoughts of their Toy Show Jumper wardrobe.
Gay Byrne says "For me it was a giant step back into nostalgia, hugely enjoyable to look back at some of my most fond memories of the toy shows."
RTÉ One, Friday 24 December, 8.50pm