Under The Dome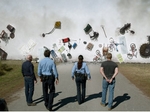 Under The Dome returns to RTÉ Two for a second series with a double bill on Thursday 10 July. The massive US drama is based on Stephen King's bestselling novel about a small town that is suddenly and inexplicably sealed off from the rest of the world by a massive transparent dome. The premiere episode of the second series was written by the bestselling author and executive producer Stephen King, who also makes a cameo appearance, and was filmed on location in Wilmington, N.C. Eddie Cahill and Karla Crome join the cast as series regulars.
Season 2
Season 2 begins with Big Jim deciding Barbie's fate. Meanwhile, the Dome presents a new threat when it becomes magnetized; and Julia seeks the help of a stranger to save the life of a mysterious girl who may hold clues to the Dome's origin.
Heads Will Roll
Before Big Jim can execute Barbie in the town square, an electromagnetic pulse fells many of the townspeople. Meanwhile, Julia rescues a woman who falls into the lake out of nowhere, and Big Jim receives two visitors who try to convince him to see the error of his ways.
Infestation
Barbie risks his life to help Rebecca save the Chester's Mill food supply when she discovers an infestation of butterfly eggs on the town's crops.
Force Majeure
Acid rain threatens the residents of Chester's Mill, further endangering their lives. Meanwhile, Rebecca and Lyle argue over the reason for the Dome's existence.
Revelation
Barbie and Julia take opposing sides when Big Jim and Rebecca take extreme steps to extend the town's resources. Meanwhile, the mystery of Melanie Cross deepens.
Reconciliation
Julia takes over as the new leader of Chester's Mill, after the town becomes divided over Big Jim and Rebecca's population-control plan. Meanwhile, Joe and Norrie help Melanie search for clues about her identity at the dome wall.

RTÉ Two, Thursday, 8.30pm