Under The Dome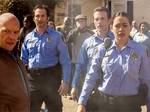 UNDER THE DOME, a new 13-episode serialised drama based on Stephen King's bestselling novel, is the story of a small town that is suddenly and inexplicably sealed off from the rest of the world by an enormous transparent dome. The town's inhabitants must deal with surviving the post-apocalyptic conditions while searching for answers about the dome, where it came from and if and when it will go away.
Episodes
"Pilot" Season 1, Episode 1
When the residents of Chester's Mill find themselves trapped under a massive transparent dome with no way out, they struggle to survive as resources rapidly dwindle and panic quickly escalates.
"The Fire" Season 1, Episode 2
While the residents of Chester's Mill face the uncertainty of life in the dome, panic is heightened when a house goes up in flames and their fire department is outside of the dome.
"Outbreak" Season 1, Episode 4
The people of Chester's Mill fall into a state of panic as an outbreak of meningitis strikes their community, threatening their already depleted medical supplies. Meanwhile, Julia continues to search for answers into her husband's
disappearance.
RTÉ Two, Thursday, 9.00pm