Two For The Road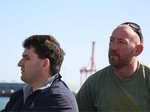 The series follows six well-known public figures as they accompany six people with disabilities while they embark on a variety of highly challenging and exciting adventures across the globe. In each episode, the celebrity will travel with someone with a serious disability and, in each challenge, the able-bodied will have to simulate the conditions facing the disabled companion in an effort to understand their perspective as well as their own.
Each of the stories is different but with a common thread of shared discovery. Two complete strangers leave their familiar lives behind and embark on the journey of a lifetime, one with challenges both individuals in different ways and their understanding of each other.
Episodes
Episode 1
Eamonn Victory is an amputee from Dunleer, County Louth where he manages the local Centra supermarket. He is a man who has not let his disability impede his thirst for life. He is joined for his journey by former Leinster, Toulouse and Ireland rugby player Trevor Brennan.
Together they embark on a sailing adventure on board The Lord Nelson which is a specially designed sailing boat that allows disabled people to share the experience of sailing. During the winter season, it sails around the Canary Islands. The ship uses a "buddy system" which pairs up individuals to take on specific and necessary tasks on board. Despite terrible sea-sickness, Trevor and Eamonn meet the challenges head on.
Episode 2
Wexford-born Edel Reck has spina bifida and has been confined to a wheelchair since her teens. An ardent traveller and a passionate athletics fan, Edel has always wanted to go mountain-bike riding in the Colorado Rockies. She has spent much of the past couple of years in hospital having surgery on her legs.
Now she is happy to begin to prepare to undertake more strenuous activity. She is accompanied by Limerick-reared Kamal Ibrahim, the current Mr World.
The challege is run by Adaptive Sports in the beautiful town of Crested Butte, an organisation that deals with disabled people who want to do challenging adventure sports. Camping in the deserts of Western Colorado, Edel and Kamal try out trail bike riding and perilous downhill mountain-biking.
Episode 3
Paralysed after a motorbike accident in his early twenties, Niall McDonnell will attempt to master the complex art of dog-sledding across the stunning Arctic snows on the Norwegian/Swedish border. He will be accompanied by box-player and passionate dog-lover Sharon Shannon.
Two of the four days for this trip will entail learning how to use sleds and work with the dogs, and then the participants will embark on two long sledding trips across harsh, but beautiful, Nordic landscape.
Episode 4
David Proud is an English actor who was born with Spina Bifida. He has always wanted to ski. Joining him on the challenge is broadcaster Aine Lawlor.
Episode 5
Sinead Kane recently qualified as the first blind solicitor in the country. She has always longed to horse-ride and on this trip she comes to realise that dream on the beautiful desert plains of Mexico. She is joined by fellow Cork woman Maeve Higgins who herself will also face the challenge of riding blind.
Episode 6
Despite becoming a quadriplegic as a result of a road traffic accident, former Minister-of-State Seán Connick has always tried to ensure that his disability never got in the way of his life's ambitions
He has long held a passion for motor sports and relished the prospect of driving under rally conditions. Using specially adapted cars that utilise hand controls, he and snooker legend Ken Dohery try their hand at rally driving at a track in Yorkshire.

RTÉ One, Thursday, 8.30pm