TV50: A Little Bit TV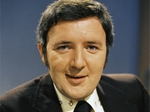 To mark the TV50 year, RTÉ launches A Little Bit TV, a series of eight profiles of well-known and much-loved Irish television presenters.
In the 50 years since RTÉ TV began, television in Ireland has undergone huge changes: the burgeoning of new platforms, new stations and new media, not to mention new faces. Ireland's on-screen talent have experienced those changes first hand. In A Little Bit TV Grainne Seoige, Bill O'Herlihy, Bláthnaid Ní Chofaigh, Bunny Carr, Seán Duignan, Mark Cagney, Derek Davis and Theresa Lowe share personal and professional memories while reflecting on the changing nature of television presentation and production down through the years.
Programmes
Episode One: Bill O'Herlihy
In the first programme, RTÉ veteran Bill O'Herlihy looks back on his varied, almost 50 year career, in television.
Bill O'Herlihy was born in Cork in 1938. From childhood he wanted to be a journalist, and follow in his grandfather's footsteps as News Editor of the Cork Examiner.
In 1965, while working for the Examiner, Bill was given an unexpected offer to cover the 50th anniversary of the sinking of the Lusitania for Frank Hall's Newsbeat programme on RTÉ. It was an offer he couldn't refuse, although he did think about it. In the TV career that followed, Bill interviewed everybody from the very upfront Jayne Mansfield to a man who wanted to be buried six feet under.alive!
In 1969 Bill worked on a '7 Days programme' which exposed illegal money-lending in Ireland. The programme's production methods caused controversy and led to both an internal RTÉ enquiry as well as an Oireachtas Tribunal.
In the early 1970s Bill made a permanent move to RTÉ Sport where he has covered everything from the '72 Munich Olympics to Italia '90. More recently Bill guided the country through the trials of training and winning under Giovanni Trapattoni.
Bill O'Herlihy also has a life 'off the pitch' and in 1973 he founded O'Herlihy Communications public relations agency working with, amongst others, Fine Gael.
Bill lives in Dublin with his wife Hilary and daughters Jill and Sally.
Episode Two: Gráinne Seoige
In programme two, Gráinne Seoige, the only TV personality to have worked for all of Ireland's TV channels talks about witnessing the changes in Irish broadcasting first hand.
Despite being best known as a quintessential Galway girl, Gráinne Seoige was actually born in Mayo in 1973. The family moved home to Galway six years later where Grainne enjoyed a traditional Gaeltacht upbringing. From an early age Gráinne dreamed of a job in journalism and her chance came when TnaG (now TG4) launched in Connemara in 1996.
Gráinne became part of broadcasting history when she anchored the inaugural news bulletin on Ireland's first Irish-language TV station. After spending two years at TnaG, Gráinne moved to Dublin to take part in another broadcasting milestone: the launch of the country's first commercial television station, TV3. There, Gráinne also met and married Stephen Cullinane.
In 2004 Sky News Ireland launched with Gráinne again in the prime position of news anchor. In 2006, Gráinne began to consider a permanent move to the UK but before doing so she was hired by RTÉ, the only TV channel she hadn't yet worked for in Ireland.
Gráinne has presented a variety of programmes for RTÉ including Crimecall, Up for the Match, Seoige, which she co-presented with sister, Síle, and the All-Ireland Talent Show. She is currently presenting Grainne Seoige's Modern Life on RTÉ Two.
Episode Three: Bunny Carr
In the third programme Bunny Carr, one of the original big stars of RTÉ Television, talks about how he 'stopped the lights' in entertainment and quiz shows before moving on to PR and communications.
Bunny Carr was born in Dublin in 1927 and grew up in Clontarf. Surprisingly, a job as a bank clerk was to provide Bunny with his big break. Near RTÉ radio studios in O'Connell Street, Bunny was cashing cheques for, and making contacts with, Raidió Éireann employees. When Teilifís Éireann launched on New Year's Eve in 1961, Bunny was in there. Within a few days he became an on-air 'commercial reader'.
Bunny was also an ideas man. He developed TV shows for RTÉ like Teen Talk, The Life Game, Going Strong and of course the legendary Quicksilver. His catchphrase 'stop the lights' even became part of everyday language. Bunny also quizzed the leaders of the day on The Politicians and The Person in Question as well as religious leaders on Encounter.
In 1970 he went to work as Director of the Catholic Communications Centre where he trained priests in media skills. In 1973 he left to set up his own PR firm, Carr Communications. It was a one-stop shop for many a politician looking for media training and Bunny boasts six former Taoisigh as graduates.
Bunny finally left RTÉ in 1984, but made the occasional appearance on Irish television. He remained with Carr Communications until his retirement in 2004.
In 2005 Bunny's much-loved wife, Joan, died. She had been living with a polio- related paralysis for much of their life together.
Now aged 84, Bunny still lives in his native Dublin.
Episode Four: Bláthnaid Ní Chofaigh
Bláthnaid was born in Ontario, Canada in 1970. Her father had emigrated there to further his engineering career. Three years later the family returned home to Ráth Cairn, Co Meath, a Gaeltacht area only forty miles from Dublin where Bláthnaid nurtured her passionate appreciation of the Irish language.
Bláthnaid's grá for Irish eventually paved the way to an unexpected career in television: In 1989, RTÉ put out the call for young female Gaelgóirs. Fresh from school, Bláthnaid joined RTÉ as one of the Scaoil Amach an Bobailín team. But a few months later she found herself out of a job. Not one to give up easily, Bláthnaid took every gig she could to keep her foot in RTÉ's door.
Persistence paid off when Bláthnaid became one of the presenters on RTÉ's landmark children's show Echo Island. Life also took off personally when, in 1996, she married husband, Ciarán, and had their first child.
Bláthnaid was able to make the move into adult broadcasting when RTÉ produced Sin É: an Irish language current affairs show for TG4. In 2004 she began co-presenting The Afternoon Show with Anna Nolan and Sheana Keane.
In 2009 Bláthnaid suffered a health scare, lost her father and left The Afternoon Show. These days her presenting spans Entertainment, Religion and Irish language programming-the place where it all began.
Bláthnaid lives in Dublin with husband, Ciarán, and their four children.
Episode Five: Derek Davis
Derek Davis has had one of the most varied and colourful careers in Irish broadcasting. His iconic status as daytime TV host belies a background in hard news. He started his broadcasting career in the BBC in Belfast in the early 1970s, the worst years of the Troubles, and followed this with a stint as a Big Tom impersonator on the RTÉ satirical show Hall's Pictorial Weekly.
After a follow-up ballroom tour came to an end, he joined RTÉ as a television news reporter in 1975. Ten years later Derek left a plum job as newscaster on the nine o'clock news to host a prime time TV entertainment show. In 1986 he found yet another niche when he joined former continuity announcer, Thelma Mansfield, hosting popular daytime programme Live at Three. Then he made the leap from the sofa to riding the waves of a long-running marine series. Most he won the Celebrity Bainisteoir cup without breaking a sweat - unlike the time he hosted the Rose of Tralee...
Episode Six: Mark Cagney
In the sixth programme, Mark Cagney talks about how his love of music led to late night radio on RTÉ 2FM, Television's MT USA and Ireland's Eye. Since his early night owl years, Mark has now become an early bird on TV3's Ireland AM.
Mark Cagney was born in Cork in 1956. As a boy he dreamed of being a late-night radio DJ. After a stint on pirate radio in Cork he realised that boyhood wish when he landed a gig with Cork Local Radio. In 1979, newly-launched RTÉ Radio 2 came calling and his night time radio shows Night Train and Midnight Blue were born.
Mark made the leap from Cork to Dublin in time for the launch of new television station RTÉ 2. Mark worked as a reporter on Ireland's Eye covering everything from behind-the-scenes at The Eurovision Song Contest to stories on skinheads and teddy boys. His muso status on late night radio led to his fronting many live music shows such as 'The Live in Dublin' concert series, the Hot Press Awards and MT USA.
In 1989, Mark moved to new commercial radio station 98FM. Two years later, Mark's world was torn apart when his wife Ann died of a brain haemorrhage. One particular work colleague, Audrey, was a huge support. The couple are now married with four children.
In 1998 Mark joined Today FM. A year later, Mark broke back into television on the Ireland AM sofa with the fledgling commercial station TV3. He has finally found his groove on morning television where he's on top of a variety of topics from news to sports and, of course, his first love: music.
Episode Seven: Theresa Lowe
During the 1990's Theresa Lowe was queen of RTÉ quiz shows. Following a period in radio and in TV continuity, she took over from Marty Whelan on Where in the World. For the next seven years Teresa brought glamour and energy to Sundays nights - and to an entertainment preserve that was almost exclusively male.
While presenting Where in the World, Theresa was studying law and was called to the bar in 1997. She has been a practicing barrister now for fourteen years. Theresa is married to Frank McNamara, formerly of the 'Late Late Show', and they have four children.
Programme Eight: Seán Duignan
Seán Duignan is one of the major figures of RTÉ Television News, who has been on the spot for the big stories since the early 1960s. Although he is best-known for his political scoops and his spin as a government media handler, he was at his happiest travelling the country as a regional reporter and even enjoyed a spell as a hip presenter of a pop céilí show.
RTÉ One, Thursday, 7.00pm