The Philip Lynott Archive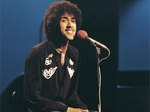 Philip Lynott was Ireland's first international rock star. Despite his untimely death over 25 years ago, the Crumlin born musician's songs and music are still enormously admired and much listened to. As a recent exhibition of his life and work demonstrated, he retains huge admiration and immense popularity not just among the Irish public but with people from around the world.
Culled from extensive archive and featuring reminiscences from friends, colleagues and admirers this one hour programme reflects on the man, the myth and his music, and includes rare, much loved material from his band Thin Lizzy's 1970's heyday, along with the first screening of a fully restored version of the iconic 1982 Old Town pop promo.
RTÉ One, Monday 02 January 2012, 10.55pm