TV50: 50 Years In The Glow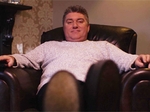 Presented by the hugely-popular actor and comedian Pat Shortt, 50 YEARS IN THE GLOW tells the story of the last five decades of RTÉ television but purely through the eyes of the viewers: there are no experts, analysts or historians. With scores of contributors from all across Ireland, the documentary focuses on the importance of television in the lives of ordinary people and families.
50 years in the Glow is more than a collection of clips & highlights: this is a warm-hearted documentary about the cultural and social impact of TV, and how it has become a part of our homes and daily lives. "It wasn't enough that RTÉ could show you the Wild West, or the Jungle, Or Southfork, or the Moon... For the first time, we could see ourselves, up close... Whether we wanted to or not." (Pat Shortt)
Christine in Cork recalls how she was told to dump her now-husband because he was weird (he didn't own a TV); Dermot & Anne in Dublin ended their dates early on a Tuesday so they could get home for Dallas; Orla in Meath used to knock back Tic-Tacs and a glass of water to imitate Sue-Ellen's addictions in Dallas; Timmy from Heir Island in Cork remembers his first TV ran off a car battery... they turned it off during ad-breaks to save power; Roisín on the Aran Islands stayed at home on Sunday evenings minding the children while the men went to the lighthouse (which had electricity) to watch The Riordans; Breda & Michael in Tipperary still remember their time in the Late Late Show audience 30 years ago as if it was yesterday; Barbara remembers calling RTÉ from the local phone box to ask Richard Crowley out on a date; Ted & Mary from Kerry insist that their father invented Ireland's first
remote control, and they have proof!
50 Years in the Glow asks the viewer what television has meant to them, and captures some of their key television moments and memories: The assassination of JFK; Cassius Clay; Annie Murphy or RD Laing on The Late Late Show; Miley's affair in Glenroe; from the Civil Rights marches in Derry to the Queen's visit; from emigration in the 60's to emigration in the 21st Century; from Teilifís Feirme to The Virginian... We've been through a lot as a nation since 7pm on New Year's Eve 1961. And the uninvited guest has been there too, flickering away in the corner of the room.
RTÉ One, Monday 02 January 2012 9.30pm