Trivia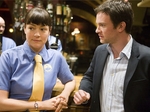 Episode one of the second series of Trivia begins with a funeral. The deceased is Kevin McKenna, the owner of the Flick Shack video shop and the only employer Lawrence Duffy has ever had. His death has come at a tricky moment for Lawrence who is now in a committed relationship with Molly Mooney; they're in the process of moving in together. Molly has firm ideas about their immediate future. She calls it 'The Plan', and it goes like this: she will get qualified as a paramedic and pursue a real career with real opportunities, while Lawrence will continue to . be Lawrence. His only real responsibility is to keep them (and Aisling, Molly's daughter) afloat while Molly goes through training.
Unfortunately for Lawrence, Kevin's widow, Maura has other ideas. Kevin has bequeathed her several money-making concerns and she sees no reason to keep running the Flick Shack - a business that's dying on its feet. Quite literally on his way to complete his move-in with Molly, Lawrence finds that he's unemployed and that The Plan is in tatters. Lost in shock and panic, he finds himself unable to ruin Molly's high. He doesn't tell her his news at the first opportunity and thereafter finds it impossible to come clean. And so he forms a plan of his own - he'll give himself a week to find a new job. If he manages to find one, he'll tell her the truth; at least the story will have a happy ending. If he doesn't, well, he'll just have to face the consequences.
Against all the odds, this ludicrous gamble pays off. Lawrence finds work at Nutcracker Finance, a loan consolidation outfit who are so busy they're hiring almost anyone. But still he doesn't tell Molly the truth. He learns that he's on a month's probation and decides that he can't come clean until the job is one hundred per cent in the bag.
And so Lawrence begins to lead a double life. As Molly progresses through her paramedic training (both class-room and ambulance-based), he pretends to still be gainfully employed at the Flick Shack. The world of 'real' work, meanwhile, proves extremely trying, not least because his cubicle-mate, George, is a classic bully. It isn't long, however, until Lawrence discovers a way into George's affections - all he has to do is help him win at the pub quiz and life will be so much easier. There's just one catch - Lawrence hasn't attended the quiz since the climax of series one and has promised Molly that he'll never go again. Still, he has his reasons - what's one more little deception?
Series Two
Episode One
Lawrence prepares for the big step of moving in with Molly and supporting them both while she studies to become paramedic. But things go badly wrong before he has even got his foot in the door.
Episode Two
Lawrence struggles with the twin pressures of cohabitation and hiding his unemployment from Molly. Meanwhile, Adam pursues Tara's flat-mate, Ruth.
Episode Three
Lawrence starts work at his new job in Nutcracker Finance and finds it extremely trying. Adam makes progress with Ruth but not in the way he would like.
Episode Four
Lawrence discovers that his colleagues have an interest in quizzes and tries to resist the temptation to join them. Aisling brings home a new boyfriend, causing yet more tension at home.
Episode Five
Lawrence's deceptions catch up with him at last. Molly and Adam attend the same party and both come away miserable.
Episode Six
Lawrence is at a low ebb and thinks that things can't get any worse - but he's wrong. Molly and Adam both have tough decisions to make.
Cast
David Pearse as Lawrence
Janet Moran as Janet
Keith McErlean as Adam
Aisling Bea as Ruth
Aoibhinn McGinnity as Tara
Christen Mooney as Aisling
Damien Kearney as George
RTÉ One, Thursday, 10.15pm