Trish's French Country Kitchen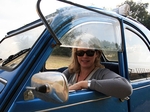 With the fierce heat of the summer sun a quickly fading memory, Trish Deseine follows on from her last series Trish's Mediterranean Kitchen with a look at the riches of autumn in this new series Trish's French Country Kitchen. She stays firmly in the south of her adopted country to bring us more of the food and drink that distinguishes the Provençal region.
It is a season for foraging and collecting and it's all there for the taking: chestnuts from the market in Toulon to make a creamy soup; mushrooms and edible flowers gathered from the Provençal woods; and fish fresh from the Mediterranean such as sardines, swordfish and halibut to slow roast with vanilla back in her country kitchen.
Trish collects her ingredients from growers or from the vibrant country markets of the region and she prepares a whole range of seasonal delights. Most obviously, there is no shortage of ripe fruit and vegetables. Pineapple cooked in a salt crust, tomatoes a la Provençale, apricot and vanilla jam, ravioli tomato chutney, pears poached in wine and spices and apricot jam - they all get their turn in the kitchen.
Then as the first cool breezes blow in off the Mediterranean, warmer fare is in order. Trish prepares chicken dishes with macaroni and then braised in Beaujolais nouveau. Beef goes from the chill tartare of the late summer to the more autumnal braised daube de boeuf accompanied with a country winter salad with blue cheese. 'A beaker of the warm south', the red wine of the region, is the traditional accompaniment to brace us for the winter ahead.
RTÉ One, Friday 4th September 2009, 8.30pm
RTÉ One, Friday 11th September 2009, 8.30pm
RTÉ One, Friday 18th September 2009, 8.30pm

RTÉ One, Friday 25th September 2009, 8.30pm

RTÉ One, Friday 2nd October 2009, 8.30pm
RTÉ One, Friday 9th October 2009, 8.30pm

Other Trish Deseine Programmes