Transatlantic Sessions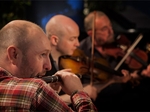 TRANSATLANTIC SESSIONS 6 (Pelicula Films Ltd for BBC Scotland, BBC4 and RTE) brings together the best of Nashville, Ireland and Scotland in a format developed by director Mike Alexander that affords, in the words of one critic, "a unique insight into the sheer joy of making music".
For the new series of six half-hour programmes, Pelicula chose the Lodge On The Loch Hotel whose panoramic views out from the famously bonnie banks of Loch Lomond made it a truly inspirational location where top vocal and instrumental exponents of the Americana and Celtic traditions came together to rehearse and play with no audience except themselves and an all-star house band. As with previous series, music co-directors were Nashville's Jerry Douglas and Shetland's Aly Bain.
The award-winning show - acclaimed as "probably as close as television can come to live music" - returns for a sixth series. Music co-directors, Shetland fiddle virtuoso Aly Bain, dobro ace Jerry Douglas and their all-star house-band, host a gathering of the cream of Nashville, Irish and Scottish talent in a spectacular new location overlooking the bonnie, bonnie banks of Loch Lomond.
Episodes
Programme 1
This first programme in the new series features not only established favourites Karen Matheson, Cara Dillon and Andy Irvine but also exciting newcomers such as Boston's Aoife O'Donovan, Teddy Thompson, son of the legendary Richard and, from Scotland, Ewan McLennan.
Programme 2
Three greats of their respective traditions grace this second programme of a new six-part feast of music - Virginian Mary Chapin Carpenter, Maura O'Connell from County Clare in Ireland and Hebridean Julie Fowlis. Tim O'Brien adds Appalachian bitter-sweet.
Programme 3
Instrumentals have always been a key part of the Transatlantic Sessions mix. In this third programme of the new series look out for the deftly delicate guitar of Russ Barenberg, one of the Sessions' "Founding Fathers" and John McCusker's rollicking fiddle.
Programme 4
Phil Cunningham joins the fun in this fourth programme in the new series celebrating the interrelated richnesses of Scottish, Irish and American traditional music. Music co-directors Jerry Douglas and Aly Bain are also to the fore along with Mike McGoldrick on pipes and whistles.
Programme 5
Best known for his driving guitar licks, John Doyle leads off this fifth programme of the new Transatlantic Sessions with "Liberty's Sweet Shore", an emigrant song that mirrors his own journey from Ireland to South Carolina. Allan MacDonald closes proceedings with one of his inimitable pipe sets.
Programme 6
The final programme in the series features Karen Matheson, Maura O'Connell, Aoife O'Donovan, Tim O'Brien and Andy Irvine backed by Aly, Jerry and house-band stalwarts Michael McGoldrick, Donald Shaw, Danny Thompson and James MacKintosh.