Transatlantic Sessions 4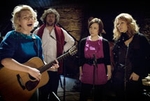 Transatlantic Sessions brings together the best of Nashville, Ireland and Scotland in a format developed by director Mike Alexander that affords, in the words of one critic, "a unique insight into the sheer joy of making music" and represented, as another more pithily put it, "the greatest backporch shows ever".
For this series, a beautiful old hunting lodge at the entrance to Glen Lyon near Aberfeldy in the Perthshire Highlands was chosen and top vocal and instrumental exponents of country and celtic traditions gather to rehearse and play together.
Leavening the intimacy of the music-making through each of the six programmes in the series is a strong element of spectacular Highland scenic photography while the informality of "backstage" conversation and stories serves to highlight the series' genuinely historic qualities of collaboration and performance
Music co-directors were Nashville's Jerry Douglas and Shetland's own Aly Bain.
Episodes
Programme 1
The best of Nashville, Ireland and Scotland come together in an exclusive Highland location, to make music in what have been called "the greatest backporch shows ever". The first programme opens with a stunning Fiddle Blast showcasing Mairead Ni Mhaohaigh, Jenna Reid, Aly Bain American bluegrass ace, Stuart Duncan.
Programme 2
In the second programme Martha Wainwright makes her debut backed by Mairead Ni Mhaonaigh, Liam O Maonlai and Emily Smith. Then there's Donal Lunny, Karen Matheson, Phil Cunningham and James Taylor and many more!
Programme 3
Highlights from the third programme in this acclaimed series include Mairead Ni Mhaonaigh and Donal Lunny singing about Donegal, Dan Tyminski going back to old-time Appalachia and up-and-coming Scottish singer Emily Smith with the Burns classic the Silver Tassie.
Programme 4
The series continues with strongly Irish contributions from Karan Casey and Niall Vallely (Black Is The Colour), Liam O Maonlai (Worry Not) and Ronan Browne getting together with Scotland's Allan MacDonald in a Pandemonium of Pipers.
Programme 5
Karan Casey duets with the legendary James Taylor on The King's Shilling, Rosanne Cash with Phil Cunningham on The Secret Life of Roses and Jerry Douglas with Stuart Duncan on Unionhouse Branch. While Allison Moorer's interpretation of Carrickfergus is reckoned by Aly Bain to be the best he has ever heard
Programme 6
The last programme of the series features James Taylor and Gaelic star Julie Fowlis, while regular house-band guitarist, Russ Barenberg, has a characteristically delicate solo feature.