Transatlantic Sessions 3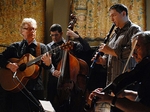 Transatlantic Sessions 3 (Glasgow-based Pelicula Films Ltd for BBC Scotland, BBC4 and RTÉ) brings together the best of Nashville, Ireland and Scotland in a format developed by director Mike Alexander in previous series of Transatlantic Sessions that afforded, in the words of one critic, "a unique insight into the sheer joy of making music" and represented, as another more pithily put it, "the greatest backporch shows ever".
For the new series of six half-hour programmes, a beautiful old farm steading converted into a small concert/studio space at Strathgarry House near Killiecrankie in the Perthshire Highlands was chosen and top vocal and instrumental exponents of the Country and Celtic traditions gathered to rehearse and play together with no audience except themselves and a "resident" house-band of their peers. Music co-directors were Nashville's Jerry Douglas and Shetland's own Aly Bain.
Leavening the intimacy of the music-making through each of the six programmes in the series is a strong element of spectacular Highland scenic photography while the informality of "backstage" conversation and stories serves to highlight the series' genuinely historic qualities of collaboration and performance.