Too Old for the Road?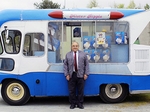 Documentary following the lives of older Irish motorists as they face new concerns head on: failing eyesight, driving licence renewal, rural isolation and facing a speeding fine at 86.
The truth is you are never too old for anything, but sometimes there are age-related complications
that mean people have to give up driving. Driving a car means independence, and a connection with friends, family and the rest of society. But what happens when your health begins to fail and you risk becoming a danger to yourself and other road users? And why do older people fear the arrival of the day when they are no longer able to drive?
We meet Michael (83) in Kilkenny who, despite having age-related macular degeneration, still regularly drives 30 minutes to a nursing home to visit Margaret, his wife of 55 years. Michael's driving licence expires in just a few months but he's not sure if he can keep driving until then and is even less sure what he will do once that day comes.
Joan (86) lives in rural Co. Galway. She's been summonsed to appear in court having accidentally ignored a fixed charge penalty notice for speeding. Joan's daughter Bereneice is certain that her Mum was driving on the day in question, despite the car being in her name, so they are both off to Galway Circuit Court to face the judge. Joan's fear is that she might be put off the road.
John (101 and a half) lives in Co. Tipperary and has been driving for close to 80 years. At age 99, he decided to buy an electric car out of concern for the environment. The last time he renewed his licence he got it for 3 years and now, as the end of that term approaches, he is confident that it will be renewed again. He says that he will know himself when the time comes for him to give up the car.
Anne (88) lives in Dublin but has a holiday cottage and garden in Co. Kildare. Moving between the two means driving on the Naas Road. In the last few years she has 'taken a rapid leap into old age'. She has a bad back and a pacemaker and as the renewal date approaches on her current driving licence, Anne is very concerned about losing her independence if she doesn't get a new licence.
John (75) has been driving the same ice cream van in Dublin for 50 years this year. Despite being well beyond the official retirement age, he still works a few hours each day, as being self-employed, he isn't entitled to a state pension. Driving is his livelihood, so giving up would also mean losing his income.
Eventually the day comes for all of us when getting behind the wheel is no longer the right choice, but arriving at this decision can be difficult. The loss of independence and social engagement that the car affords can make this transition a difficult one.
Too Old for the Road? explores the experiences of older drivers, and reminds us that sooner or later, the decision as to whether we will give up driving will affect us all.