Too Broke to Retire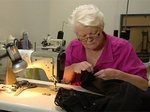 The Irish workforce is ageing. Shattered pension dreams, wayward investments and a string of new taxes mean some over 65s must keep working on. In the RTÉ TV Documentary Unit's Too Broke To Retire pensioners who planned for a comfortable retirement talk about their concerns just making ends meet as they face recession hardship and potential budget cuts.
Chris Jones, aged 65, works up to 12 hours a day as a taxi driver at Dublin Airport. If he doesn't meet his €1,100 monthly mortgage repayments he fears he could end up in the bankruptcy court.
65-year-old Patricia Mulhall retired from her job as a cook in Finglas earlier this year. She receives the weekly widow's pension of €230 but is still in deficit by €1100 each month just struggling to meet overheads. Patricia is actively seeking employment but is concerned age will hinder her job prospects.
David Cope from Castledermot, County Kildare owns a Londis shop. At 69 he'd love to retire but is caught in debt. During the boom, he spent €2 million on a nearby commercial property he thought would be his pension. But the interest-only mortgage payments are three times his monthly income. It means he's working the shop floor, lifting crates and stacking shelves, 365 days a year.
Aileen Dunne, aged 69, runs a clothing alterations business in Dublin. Her credit union loan, electricity, heating, household charges and others bills means she must keep working.
When the Waterford Crystal factory closed in 2009, many workers who lost their jobs were in their late fifties and early sixties. As the age criteria for the state pension rises up to 68 in the years to come, the crystal workers-like many others-face not only a pension age gap, but a diminished company pension.