The Tommy Tiernan Show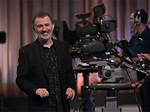 No stranger to television chat shows, Tommy Tiernan has performed and been a guest on some of the biggest and most established ones in the world. For a long time Tommy has wanted to host his own TV chat show - one with an edge that re-invigorates the format.
For Tiernan the element of surprise is key to the success of such a show: "One of the great things about the old Late Late Show was not knowing who the guests were until they appeared on screen, it kept the whole thing lively, so I just thought, well how would it be if the host didn't know who they were until they walked out either. Doing it in front of a live audience is the key for me, it all seems like good unpredictable fun."
On 5th January, 2017, television audiences will be treated to a brand new series of The Tommy Tiernan Show. Hosted by the comedian, this is a chat show with a difference where neither Tiernan, the studio audience or the viewers at home know who the guests are until they walk out on stage!
A master of improvisation, Tommy thrives on the adrenaline of no preparation and shows that bring him to the edge of a cliff. He realises that the mystery guest format has the potential for disaster.or some kind of delightful mess! But, as last year's pilot episode for The Tommy Tiernan Show proved, in the hands of an inquisitive, articulate and intelligent man, with a great instinct for the hidden depths in everyday life, there is potential for great humour and freewheeling wildness.
Recorded in front of a live audience, in the very studio where Tommy made his television debut with Gay Byrne all those years ago, The Tommy Tiernan Show incorporates stand-up, live music, sketches.and great chat!