Tommy Bowe Body Check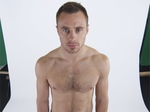 Tommy Bowe's Bodycheck provides a unique insight into what it takes to rise to the top of the modern game of professional rugby and explores the science and physiology of Ireland and Ulster winger Tommy Bowe.
This sports science documentary chronicles the sporting-life and season of one of our top sportsmen as he makes his return from injury to play for his country. Along the road to recovery, Tommy is tested through cutting edge sports science experiments to uncover what makes him the elite sportsperson he is, from grueling pre-season training to full match fitness. And, just as Tommy returns to elite performance, his RBS 6 Nations hopes are dashed when he suffers a serious injury.
Tommy's journey takes him back to explore his GAA roots, as well as putting himself up against a record-breaking sprinter. All his sporting attributes are put to the test: strength; speed; endurance; mental toughness; technique; and finally, how much natural ability really lies in the family genes?
Background:
Growing up, Tommy wasn't an obvious future rugby professional. His background was in Gaelic football - he made his debut at under-10 level for his local club, Emyvale. Tommy was 20 before his rugby career started to kick off. When he lined out for Ireland in 2004 against the USA, he was the first player from Monaghan to play for Ireland in over 80 years.
2009 saw him become not only part of the Grand Slam winning team, but also a British & Irish Lions superstar during a tour in South Africa. So how did this man from the stony grey soil become such a sporting hero? Was it inevitable that one day he would don the green shirt in Lansdowne Road?
Tommy has had countless defining moments for Ireland in the RBS 6 Nations rugby championship - that famous breakaway try against Italy, that chase back tackle against Scotland, and the two breaks against Wales in the Grand Slam match, including the try he scored. Lighter than your average rugby player, Tommy has had to bulk-up for match fitness. He has also suffered his fair share of injuries and has had to work hard on several occasions to get his playing career back on track.
Tommy, as an elite sportsman, has a tough training regime. His training programme was specifically designed to help him reach elite standards. In particular it very much concentrates on building lower body strength and speed. The documentary follows his regular training regime with Ulster as gets back to fitness after kidney surgery in April 2012.
Keen to discover exactly what it is that has made him the player he is now, Tommy works closely with Ulster Rugby's Strength & Conditioning team and specialists at the Sports Institute of Northern Ireland.
Sporting ability appears to run in Tommy's family - his sister is an international hockey player, his father was a rugby player, and his mother, a physiotherapist, regularly runs marathons. Is it something in their genes, or just the result of a lot of determination and hard work?