TV50: Times Got Good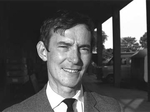 Meet the witty and politically-incorrect Galway farmer, Tom Flanagan, aged 73, who says "Times Got Good . . . for the farmer...when Hitler invaded Poland." Tom had an arranged marriage and believes that "marrying for love is a luxury the poor cannot afford." First broadcast in 1971, the programme is presented by Cathal O Shannon, and produced and directed by Peter McNiff.
First broadcast in 1971, this documentary glitters with the wit and wisdom of Joe Flanagan, raconteur, seanachaí and South Galway small farmer as he and his brother Paddy wind down work on their farm as they plan to sell up and retire. He believes he has had a good life with plenty of food, good neighbours and a thriving farm. Farmers he said are 'humbuggers', always complaining about something and putting on the 'béal bocht'.
'Times got good (for farmers), about the time that Hitler invaded Poland', he tells reporter Cathal O Shannon with a gleam in his eye. 'Up to that we had the years of the Depression, the Economic War and if we had all the land that was in the parish of Beagh you couldn't make a pound note out of it.'
He's a contented man. The proud owner of a fair sized farm of 150 acres, they have five unbroken horses, 80 sheep and lambs, a herd of 80 cattle and no tillage. He and Paddy are snug enough in their old house, even though it is without electricity, and has no television, no running water, no telephone, no sewerage, no lavatory.
His wife, who was 20 years older than him, has died and since then, he bakes bread and a brown loaf for himself and his brother every day and takes care of the kitchen work. His was an arranged marriage and the entire marriage was the better for it in his mind. In his opinion, romantic love is a new invention which has come in since arranged marriages were discontinued. He believes that romantic love is a luxury the poor cannot afford.
The film captures the daily life of a style of farming that goes back many generations. The cows are milked by hand, the fields are tilled by hand and the farmers use up their left over hay to make 'sugáin', a durable rope of multiple usage around the farm. The pigs are free to roam the farm but their noses are ringed to reduce damage to property and crops. Joe likes pigs. They are one of the few animals that thank you when fed, in his experience.
Joe Flanagan has a wealth of stories and witty observations which will enthral viewers. This programme brings to air the type of unique Irish character that will be familiar to older viewers but who is a rarity in this more modern age.
RTÉ One, Thursday 26 July 2012, 8.30pm