Time on Their Hands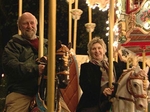 Did you ever dream the day would come that you could go on holidays abroad for a long weekend and do something you always wanted to do - all for under €500?
A new series on RTÉ will be showing just how to do that. In 'Time on Their Hands', the focus is on people who are retired or not restricted to when they travel. Thus, our guest presenters are able to take advantage of the fantastic fares from low cost airlines and off-season rates in hotels.
Each programme follows a guest presenter with 'Time on Their Hands' travelling overseas to accomplish a specific quest or yearning.