This Is Christy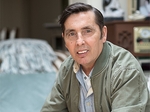 As Christy's band Aslan prepare to play a sell out gig at the Iveagh Gardens in their home city of Dublin, This is Christy captures the personal story of lead singer Christy Dignam.
Singer-songwriter Christy Dignam has been a major player in Ireland's music scene for over three decades, most of which has been spent as front man with Dublin rock band, Aslan. With the release of their 1988 debut album 'Feel No Shame' the group hit the big time. With sell out tours, top selling singles and lucrative recording deals Aslan had the world at their feet. But, within a year, everything changed - Christy was sacked and the record deal vanished.

Five years later, the band re-grouped and, since then, the relationship between the band members has remained remarkably close as they continue to practice, record and gig together. While they may not have realised their potential on the international scene, Aslan and Christy continue to hold a very special place in the hearts of Irish fans and are still regarded as one of the great live acts, something their busy schedule is testament to, with the band continuing to sell out venues across Ireland.

Blessed with one of the best Irish voices ever, Christy's story is a remarkable one, taking in some of life's great highs - rock n roll stardom - with some of its biggest lows. This is Christy gives viewers an intimate portrait of an artist who has battled back from some of life's deepest traumas including sexual abuse, drug addiction and cancer.

For as long as he can remember, music has been huge in Christy's life - the chink where the light could get in. Continuing to sing every single day, his love of music began in the Dignam family home in Finglas, as the young Christy sat enthralled, listening to his father sing while cooking the Sunday dinner. Now trained in the classical art of bel canto, Christy continues to teach one pupil at his house, every week.

The documentary will capture his personal story with Christy speaking frankly and honestly about the obstacles he has faced; the importance of his family and where he gets his love of music, in all its forms. Viewers see how Christy's illness impedes his daily life and how he balances the management of his condition while still being the charismatic and beloved frontman of one of Ireland's most enduringly popular bands.

This is Christy be a revealing and evocative insight into the life and creative impulse of one of the leading singer/songwriters of his generation and one that is always pushing, both himself and the boundaries of his music.