This is Nightlive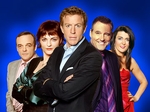 Anchorman Johnny Hansom and his team present this weekly Lifestyle News show where 'they are the news'.
CHANGE - You Can't Believe In. This is Nightlive is a half-hour weekly show.
Lead by Johnny Hansom (born: Declan Foley), an increasingly unhinged former DJ, the show - the first from RTÉ's Lifestyle News Department - is struggling to find the right tone as the country sinks into recession.
Into this world comes Una Og Nic Ni Suillicaint, a beautiful new co-host with a lofty news agenda. Unfortunately, she's chosen a news team as dysfunctional as the stories it reports. Joining Johnny are entertainment correspondent Jackie Byrne-Daly, sports reporter Trevor Corocran and weatherman Mike 'Cloudy Walsh.