The Thin Green Line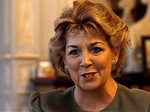 New series examining what we do in our overseas Embassies, advancing Irish culture, advancing our interests and our values.
In Sierra Leone we meet Ambassador Sinead Walsh, in Paris Ambassador Geraldine Byrne Nason, in America Consul General Barbara Jones, women at the front line for Ireland. In New York we see the changing demographics and the challenges of keeping Irish connections in a changing America. And the fight to secure a solution for undocumented Irish who are now moving into middle age.
We find Ireland's influence surfacing in the most surprising and most unexpected ways. In Africa you can find that there is an entire generation of African leaders now who were educated by Irish Missionaries..and who have a good sense about Ireland. In Sierra Leone we see inspiring stories including the internationally famous Flying Stars, a football team made up of war wounded, child survivors of the vicious civil war who have transformed their lives with the help of Irish aid.
Sierra Leone is one of the poorest countries in the world. Freetown the capital was founded by Africans freed from slavery. The scars of an eleven year civil war are still visible. Recently it made world headlines again with the deadly Ebola outbreak which killed thousands of people
Ireland is one of the few countries in the world with an embassy here. The team earned huge respect from the people for standing with and working side by side with the Government during the deadly Ebola pandemic.
In Dublin the Passport Service is facing a huge challenge, almost 800,000 new passports will be issued this year, each printed in Dublin. But now it is becoming very clear hundreds of thousands more people are eligible and many are starting to apply under a foreign descent system. In London Ambassador Dan Mulhall and his team deal with the Brexit fallout and the surge in demand from British people to hold on to their freedom of travel in Europe by applying for Irish passports.
At the UN we meet Ambassador David Donoghue, the man who helped secure agreement between 193 countries during two of the most important summits in modern history - the UN Global Goals in 2015 and the special UN Refugees and Migrant summit in 2016 .
Dag Hammarskjöld said the UN was invented "not to bring us to heaven but to save us from hell." For all its faults consider what the crisis in Syria might look like if the UN was not in existence. And thanks to Ireland's work there is now some common ground on how to move forward with common purpose.
Consular Division
In Ireland the phrase " the Department of Foreign Affairs is providing Consular assistance." is well known.
Irish people are travelling now at an earlier age, further , staying longer, people older with health issues are travelling more frequently and the world is a more dangerous place so the demand for assistance is growing. We see the Crisis Response team in action and meet the people behind the Kevin Bell Trust who have brought home 300 people who died overseas without having insurance to bring them home. In 2015 alone the Department helped 1575 people in distress, and the team helped over 800 people caught up in emergency situations.
We met Mr. Declan Carthy from Meath who lost his wife Lorna in the Tunisia terror attack and see how the role played by Ambassador David Cooney was the start of a friendship forged in terrible circumstances. And meet the family of Sr. Clare Crockett a young missionary nun who was killed in the Ecuador earthquake.
As Secretary General Niall Burgess says..
"Anyone who represents Ireland overseas has to be you know that line by Kipling ..'to walk with Kings but not to lose the common touch' ..you can find yourself in NY with the Mayor of New York in the morning and with an Irish Community of older people..or providing assistance to someone who has been robbed or bereaved in the afternoon , so you need very strong sense of empathy .for others who are in distress."
Embassy locations
The series also looks at the hard headed transactional nature of doing business for Ireland today. There are 80 embassies overseas and most of those embassies are very small operations. Our Foreign Service is just over half the size of the Danish Foreign service and Denmark is a country of comparable size. Eleven of our embassies are single diplomat embassies, almost half of our embassies have one or two diplomats and they operate out of modest premises but there are a number of venues that are regarded as strategically essential for Ireland. We go behind the scenes in Paris which is a class of its own . The premises (now worth €45 million) were purchased decades ago and are available to Ireland ever since. We follow the Ambassador Geraldine Byrne Nason in Paris and Ambassador Dan Mulhall in London and the life of the two embassy buildings from 6am until the last meeting finishes near midnight.