The Zoo: A Christmas Special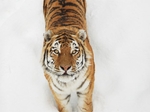 In this once-off festive episode of The Zoo audiences will see the drama unfold as the animals and keepers adapt to the cold and heavy snowfall that transforms Dublin Zoo into a winter wonderland.
With temperatures dropping to a record low the zookeepers are getting to grips with the most severe winter of a generation.
The animals from colder climates such as the snowy owls, Amur tigers, grey wolves and snow leopards are acclimatising easily to the extreme weather. However the animal care team at Dublin Zoo face major challenges and have to go to extra lengths to ensure all 600 exotic animals are comfortable during the freezing conditions.
In the African Plains section, Helen and her team are busy preparing food for Dublin Zoo's herd of giraffe and rhinos, and then it's off in the deep snow to the African hunting dogs, whose pups have emerged from their den for the first time and need to be examined by John the vet.
In the West section, Ciaran and his team are feeding the Asian elephants, where Budi the youngest of the herd seems to be enjoying the novelty of his snow laden habitat. The Amur tigers, formerly known as Siberian tigers, look most at home and are revelling in a climate they are well adapted to.
With snow falling heavier by the minute, Eddie and his crew in the east section are rounding up the Chilean flamingos to relocate them to a warmer space indoors. Meanwhile Peter is giving some extra special attention to the Humboldt Penguins and their neighbours, Dublin Zoo's pair of snowy owls.
Over in the unseasonably warm environment of the Reptile house the Nile Crocodiles have their eyes on a special Christmas treat Garth has brought in for them, a tasty looking turkey. In the South American house Susan has brought the mischievous squirrel monkeys some Christmas gifts, but the little rascals have to figure out how to unwrap them first.
This special episode of The Zoo has all the drama, excitement and adventure fans have come to know and love, featuring all your favourite keepers and animals and a whole lot more.
The Zoo: A Christmas Special is brought to you in association with EBS.
RTÉ One, Wednesday 28 December 2011, 6.30pm