The Voice Of Ireland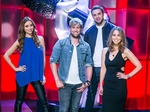 Una Foden and Rachel Stevens join Kian Egan and Bressie on coaching panel
The Voice of Ireland will return for a fourth series on Sunday 4th January 2015 with two new ladies joining the coaching panel who between them have 11 chart topping albums and 24 singles - Una Foden and Rachel Stevens. Both pop stars have toured the world as part of chart topping bands The Saturdays and S Club 7.
They will join our Voice of Ireland stalwarts, Kian Egan and Bressie, on the spinning red chairs as each of the four coaches pick their top 14 acts to perform in the Battle stages. Having picked two previous winners - Pat Byrne and Brendan McCahey, Bressie is looking for a winner by changing his game plan this year and he has decided to add more contemporary singers to his team. Despite the fact Kian has yet to pick a winner, it's clear contestants like his mentoring style. As it's his fourth series, will all this experience mean he is in with a fighting chance this year?
Rachel has the unenviable position of sitting between Bressie and Kian, they are a noisy pair but when she wants an act she pulls no punches. Una tells us 'I've had so many doors slam in my face and felt it was never going to happen' she's been there, done that. Surely the perfect pitch to fill her team. One thing is for sure all four coaches are in it to win it.
The first episode will see contestants from around the country perform for a place in the Battles. First up is Patrick Donaghue (23) from Donnycarney, who was badly burnt in a house fire. He uses singing as a release from his injuries. Next will see one of the oldest contestants in this series, 62-year-old John McCormack from Dublin who is out to prove age is no barrier to success. Kelly McArdle (19) from Drogheda was bullied in school and took up songwriting to help her escape. She performs her own song for the coaches.
Next on stage is Ronan O'Healy (21) from Ballinasloe, Galway. This talented GAA player has penned a ditty about the coaches picking him, will his plan work? Ashley Culley (18) from Tallaght has two guilty pleasures - Westlife and S Club 7 - how will her idols receive her performance?! John Sheehy (27) a yoga instructor from Cork is hoping Kian will turn for him.
Last year's winner was a 2fm Wild Card Brendan McCahey. This episode sees one of this series' wild cards perform in the shape of Colm Conlan (20) from Kildare. Does he have what it takes to follow in Brendan's footsteps? Megan Ring (18) from Walkinstown comes from a musical family and her talents include singing, playing piano and guitar.
Sarah McTernan (20) from Co. Clare is nervous with no stage experience. Will she inspire a coach to hit the button? James Birmingham (40) is a George Michael tribute act who has brought along his two daughters for support but will they bring him luck?
Joleen Burns (26) hails from Belfast and wants a better future for her and her daughter Holly. The final act to perform is Sasha Hatton-Smith (23) from Wexford who has lots of stage experience and was a contestant on You're a Star.
The Voice of Ireland is produced by Screentime Shinawil and will air on RTÉ One on Sunday evenings at 6.30pm.