The Voice Of Ireland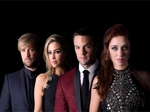 The Voice of Ireland returns to our screens for a fifth series on Sunday 3rd January 2016. Kathryn Thomas and Eoghan McDermott will be reprising their presenting roles and offering a shoulder to cry on and a hug and anything else our nervous contestants need!
Returning to the coaching panel and joining Una Foden on the spinning red chairs will be our two favourite boys - Kian Egan and Bressie and our pop princess Rachel Stevens. Una's first year on The Voice of Ireland proved to be quite successful, with Team Una producing 2015's winner Patrick James! Can she do it again or was it beginner's luck?
Bressie starts out this series wondering if he has lost his touch as he struggles to fill his team, while the others race ahead, has he lost his mojo? He feels Una is a real threat and she won last year and he is even losing out in pitches to Kian!
Una and Rachel joined the panel last series and as newbies had a lot to contend with considering it's hard to keep Bressie and Kian quiet. This year our ladies are much more confident and go in fighting for contestants they want, everyone's much more comfortable with each other, no more politeness!
And of course there is the music. Series five will see the most musically diverse contestants taking part, with everything from rock to classically trained artists and our first drag queen!
The Voice of Ireland is produced by ShinAwil and will air on RTÉ One on Sunday evenings at 6.30pm.