The Toughest Trade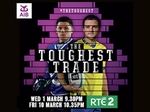 Created by the long-time GAA Club Championship sponsors AIB, as part of its #TheToughest campaign, The Toughest Trade explores how professional sports compare to the amateur GAA games.
Experiencing the trade this year will be Donegal footballer Michael Murphy and Wexford hurler Lee Chin.
Murphy will swap sports with former Welsh rugby winger Shane Williams as he travels to France to team up with top 14 side Clermont Auvergne. In return, Williams will temporarily join Murphy's club Glenswilly. Both players will spend a week immersing themselves in their new sport and club before taking part in a final challenge set by AIB and designed to test whether GAA club players can compete at the same level as professional athletes.
Also being put to the test will be Lee Chin who will take on perhaps the toughest challenge to date. Chin will fly to Canada to join the Vancouver Canucks - an ice hockey team in the National Hockey League. Retired goaltender Alex Auld spent 12 years as a professional in the NHL and will be hoping to transfer those skills when he swaps the ice for the ash as he joins Chin's club the Faythe Harriers.
Episode 1 featuring Michael Murphy and Shane Williams will air on Wednesday 1st of March at 9:30pm on RTÉ2.
Episode 2 featuring Lee Chin and Alex Auld will air on Friday 10th of March at 10:35pm.
All previous episodes of The Toughest Trade are free to view on AIB's YouTube channel www.youtube.com/aib
For exclusive content and behind the scenes action from The Toughest Trade follow AIB GAA on Twitter and Instagram @AIB_GAA and facebook.com/AIBGAA.