The Savage Eye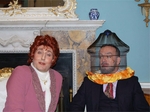 The Savage Eye returns for a fourth series on Monday, 5th May.
The critically acclaimed series takes a satirical look at subjects close to the hearts of the Irish people. Each show explores one subject and is framed around a question that the show then seeks to answer through the positing of a number of reasons (which may be at times accurate, at times ridiculous and purely for comedic effect).
The series welcomes back the much loved and familiar characters; Publican Mick 'The Bull' Daly, Ireland's President for Life and her Housebound 'It' and the Garda trainees.
The show deals with issues that are provocative and divisive, and lifts a mirror to parts of Irish society that we may not like to admit exist, but at all times in a savagely funny manner.
Click here for the first episode WEB EXCLUSIVE on Monday 28th of April....