The Ploughing Live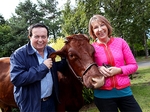 Episode 1 of 3, Ploughing Live, RTÉ One, 7pm, Tuesday, September 19
Episode 2 of 3, Ploughing Live, RTÉ One, 7pm, Wednesday, September 20
Episode 3 of 3, Ploughing Live, RTÉ One, 7pm, Thursday, September 21
Presented by Marty Morrissey and Aine Lawlor, the three part series is coming live from Europe's biggest outdoor event, the National Ploughing Championships in Tullamore, Co. Offaly.
As September and the harvest season draw to a close, Ploughing Live will bring you all the magic of this special event Tuesday - Thursday 19th - 21st September on RTE One at 7pm.
Join Marty and Aine for three days of competition and craic, live from Screggan, Tullamore, Co Offaly.
Follow @rte for updates
#rteploughing