The Obesity Clinic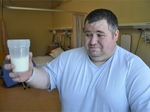 The Obesity Clinic is a new two-part observational documentary, with exclusive access, which goes inside Ireland's first public weight management clinic in St Columcille's Hospital, Dublin. Filmed over ten months, eight individuals honestly share the truth about their struggle to lose weight. Over the course of two episodes we hear from those who undergo gastric bypass surgery and those who hope to lose weight without surgical intervention.
The Weight Management Clinic offers multi-disciplinary treatment to patients. Each patient attends twelve sessions with a dietician, physiotherapist and psychologist. With no tricks or quick fixes available in the clinic, staff urge patients to eat healthily and walk every day. The message is simple but the execution is hard.
During the documentaries we meet characters such as Sven who is admitted full time into hospital as his weight reaches forty-six stone. As Christmas approaches Sven faces into a long road of weight loss, under medical supervision, that he hopes will lead to him having gastric bypass surgery and turning his life around.
Obesity Clinic looks at how as a society we have put on weight over the last thirty years and how now is the time to tackle this issue as a group and individually. Prof Donal O'Shea, founder of the weight management clinic, says 'I am sick of hearing about the problem being a ticking time bomb. The bomb has exploded and we are working at the bomb site'.
For those who have battled with obesity and failed the Weight Management Clinic offers a last chance.
Over the course of the two weeks we see patients attend their sessions in the Weight Management Clinic and at home as they try to change their lives. We explore the waiting lists for attending the clinic and getting surgery. We meet John Maher in Clara, Co. Offaly who is bed bound and on the waiting list for gastric bypass for over two years. For John and his wife, money is tight but humour keeps them and their children going in tough times.
In Ireland today 61% of the adult population are overweight or obese. We have reached a stage where it is unusual to be a normal weight.
Episode One
In episode one we meet Lavinia McNeill, mum of three in Wexford, who is trying to get her weight to a healthy level and ensure her family are healthy too. With an eye to all their futures Lavinia is changing mealtimes and habits.
Also in Wexford we meet Philip O'Brien who is waiting on gastric bypass surgery. He is hoping to regain the fitness he once had in his 20s before sports injuries halted his activity levels. Philip is patiently waiting for it to be his turn.
Episode Two
In the concluding second episode we explore the importance of family support for patients as they attempt to regain their health. We see Matthew Gardiner in Limerick and the role his parents and family play in getting his life back on track. We see the Gardiners gather as Matthew waits to hear about bed availability for an operation.
We see Sven reach his date for gastric bypass surgery and worry about what the outcome might be. His sister also visits from Germany to see his progress and share her worries about him.
If you have been affected by any of the issues raised in this programme or would like more information please log on to http://www.rte.ie/tv/programmes/theobesityclinic%20.html or AERTEL PAGE
If you wish to seek medical advice in relation to your weight you should contact your GP for information and guidance. Your GP can also speak to you about a referral to The Weight Management Clinic, St Columcille's Hospital, Loughlinstown.

A comprehensive online weight management programme, approved by Safe Food Ireland is available at www.weigh2live.eu

For more information on healthy eating and dietary advice you can visit www.indi.ie

If you would like to read more about getting active and exercising for a healthy lifestyle you can log on to www.getirelandactive.ie and www.icgp.ie/weightmanagement .

Supportive material for primary healthcare professionals can be found at http://www.safefood.eu/Healthy-Eating/Weight-Loss.aspx