The New Irish - After the Bust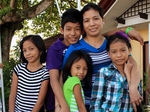 The New Irish - After the Bust tells the stories of families and individuals who came to Ireland primarily during the boom years, when the economy was the shining light of Europe. For many people who came to live here, Ireland was their 'Shining City on the Hill'. The years between 2004 and 2007 were the years when our boom peaked, with 300,000 immigrants moving to Ireland. In less than a decade Ireland's non-indigenous population went up from 1% to 12%. Almost one in five people living in Ireland now were born outside the state. Within the space of a decade Ireland has become a significantly more diverse country.
According to The Central Statistics Office the pace of immigration slowed as economic activity cooled from 2008 onwards. Since the collapse of the Irish banking system and the consequent economic bust that began in earnest from 2008, many migrants have returned home, The New Irish - After the Bust is the story of some of those who stayed. Their fortunes have differed. Some who came here to work in the construction boom, have found themselves homeless. Others, who came to Ireland have gone from strength to strength in starting up and expanding their own businesses.
The New Irish - After the Bust follows a number of stories over an eight month period as people struggle with businesses; attempt to secure visas; establish new homes; work in the UK on the building sites during the week and return at the weekends; or work to send money back to the country of origin in order to support a family there.
The New Irish - After the Bust is directed by award-winning director Kim Bartley and produced by Animo Television.
Programmes
Programme 2
Programme two follows the lives of a Chinese family in south Dublin. 21-year-old Zhubao is visiting from China, and wants to stay here with her family, whom she has been separated from for 12 years. Her parents came here to work for a short period, but as her mother became pregnant with her second child while here, they could not return to China. Her 11-year-old brother Tommy was born here, and is an Irish citizen.
Zhubao must return to China to apply for a student visa. The family desperately hope she will be back in Ireland in time for Chinese New Year. Meanwhile, her mother Maria tries to make more money selling Chinese goods in market stalls and pop-up shops, and her cousin Jessie decides to settle down in rural Co Kildare with her Irish fiancé, Derek.
Programme 3
Programme three in the series focuses on the Brazilian community of Gort, Co. Galway. In 2007, there were almost 2000 Brazillians living in Gort- doubling the town's population.
Now there are less than 800. Many of those left are out of work, unsure of what the future holds.
Programme 4
Programme 4 is the story of Leonora, who works in a care home in Blanchardstown to support her four children and extended family in the Philippines.
Her children are looked after by a nanny, and she tries to get home to see them once a year. Her son has just turned 13, and is growing up without her, but without the money she makes in Ireland, the family would have nothing.
She is desperately saving to extend the family home, so her son can have his own room, instead of sharing with his three sisters and the nanny.
Programme 5
Programme 5 features Ali, an Iraqi living in Limerick. Ali escaped Iraq in fear of his life and sought asylum in Ireland. He has been here for three years, and is hoping to be granted citizenship. If he can become an Irish citizen, he can bring his 10-year-old daughter from Baghdad to live with him, and realise his dream of opening a business.
Programme 6
Programme 6 follows Irina, from Riga, as she sets up her photography business. She came to Ireland nine years ago and worked as a cleaner, but has found more business opportunities in the bust. Now, she does Russian weddings, glamour shots, and pet portraits, mainly for Russian speakers living in Dublin. Meanwhile, her friend Tatsiana, from Belarus, is a make-up artist, whose real passion is pole dancing. She dreams of competing in the pole princess competition.