Then Comes Marriage?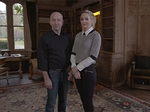 Every year in Ireland over 20,000 couples get married. The wedding is usually planned in great and minute detail. Few put the same effort into planning the marriage itself.
In this series couples planning or pondering a life long commitment to each other road-test their relationship at a retreat in County Carlow's Lisnavagh House. Over two days their relationship will be poked, prodded and dissected by psychotherapist Dr Ray O Neill and psychologist Allison Keating.
Communication skills, sex and intimacy, attitudes to money and conflict management are all put under the microscope. By the end of the retreat the couples should feel better prepared for a life long commitment to each other - though some might feel less certain. For all there will be bumps along the way as they are challenged to really look hard at every aspect of their relationship.
In each episode three couples attend a retreat together. There, over a series of challenges, therapies and experiments they expose their communication dynamic; hear some truths about their partner's views on money and personal finance; reveal their attitudes to sex; learn that while arguing is perfectly normal, arguing effectively and healthily is something that all couples need to learn.
Each couple submits themselves to intense therapy sessions with the experts as they seek to better understand their relationship now and into the future. These therapy sessions are held both as individual couples sessions but also as group sessions - so as well as gaining insights into their own relationship behaviour, they'll get a glimpse at how others manage theirs.
Then Comes Marriage? is a very real, very practical and extremely relatable relationship series in a time of fast love and online hook ups. It has something for all - whether you are in a blossoming relationship or married for 20 years. Long term relationship success is not a matter of luck, nor is failure a matter of mystery - it's preparation, preparation, preparation.
Biographies
ALLISON KEATING, Psychologist
In 2006 Allison opened her private practice, The BWell Clinic, in Malahide, Co Dublin. Allison's daily work sees her dealing with relationship breakdowns, infidelity, anger, anxiety, trust issues and 'people who have simply lost the spark'.
Allison has also worked with larger organizations and state agencies. She has worked as a Trauma Counsellor and Placement Officer for the FÁS Asylum Seekers Unit processing 256 asylum seekers into training, job placement and helping them through trauma including Post Traumatic Stress Disorder.
Allison's practical advice and research-led opinions has led her to be a regular contributor in many media - including the Irish Times, Image magazine, 2fm, Newstalk, TV3 and RTE. She is a columnist for Easy Parenting and her 'Ask Allison' column provides support for parents mental health and all their relationships.
Dr. RAY O'NEILL, Psychoanalyst
Dr. Ray O Neill is a psychoanalytic psychotherapist working in private practice in Dublin, Ireland. As Ireland's only resident male Agony Aunt, Ray writes significantly (and sometimes with significance) about love, relationships, and desire in the 21st century.
He works mainly, but not exclusively within the LGBT community, where he has acted as a director of the Gay Switchboard Dublin, and as an LGBT and Mental Health social advocate.
Ray has worked for over ten years with the Trinity Access Programmes at Trinity College, supporting educational opportunities for individuals and groups designated socially disadvantaged and marginalised from mainstream access to third level education.
He continues lecturing at Trinity College and at DCU. He is has recently completed his doctoral research on the history of desire.