An Tost Fada - The Long Silence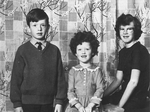 Just over two years ago, in the RTÉ programme CSÍ - Cork's Bloody Secret, the relatives of some of the 13 Protestants murdered in West Cork in the April 1922 spoke out for the first time. Now on the eve of the 90th Anniversary of the killings, another man is breaking the long silence about those troubled times.
Canon George Salter is nearly 87 years old. For most of his life he has lived and served the people of Cork City as a Church of Ireland Minister. But there is a lot more to George than his bible and his clerical vocation. For years George has been at the heart of the educational and cultural life of the city. A friend of Sean Ó Riada's, he has also been a life-long advocate of the Irish language, and an enthusiastist of traditional music and folklore.
But George has another story to tell and in An Tost Fada- The Long Silence he tells it for the first time.
In April 1922 the Salters were hardworking farmers in West Cork. When the killings started one night George's father William was stopped on his way home by a local man and told "Bill boy you best be gone by morning". Leaving almost everything behind George's family left their farm at Kilronane near Dunmanway and fled to England.
George's father had six sisters and two brothers. By the end of 1922 all of them had left Ireland. Bill Salter was the only one to return despite receiving compensation from the British Government the family never settled in England. In 1924 Bill Salter quietly moved back to a farm at Castletownshend Co. Cork and a year later George was born a citizen of the Irish Free State.
All his long life George Salter has heard stories about the farm and the house at Kilronane that the family were expelled from. Though it was hardly 30 miles distant George had never visited the old homestead or ever walked the land. Then last year, while sitting on an interview board at the Cork Institute of Technology he struck up a conversation with Dan Collins, a senior member of the Institute's staff. They discovered they had much in common. Both from West Cork, both had links to Dunmanway. Dan's sister was married to a farmer Oliver Crowley who farmed good pastureland just outside the town. "Where?" George probed. "A place called Kilronane" Dan said.
One thing led to another and George set's off to take up the remarkable invitation from the Crowley family to see his ancestral home at Kilronane for the first time.
It's a journey that takes George Salter back to the dark days of April 1922 and brings up long buried memories and reflections on the Ireland that emerged from the War of Independence.
Produced & Directed by GERRY GREGG
Written & Narrated by EOGHAN HARRIS
RTÉ One, Monday 16 April 2012 7:30pm