The Local Eye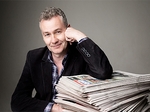 The Local Eye is a six-part series following the adventures of staff in three local newspapers: The Nenagh Guardian, The Donegal Post and Dublin's Northside People.
From new management to new media this second series of The Local Eye follows the teams at these newspapers in this tough media environment and looks at what it takes to survive.
From a royal visit in Donegal through burlesque sub-culture in Dublin to holy wells in Tipperary , this series follows the roving reporters and photographers as they cover what matters in their communities.
To give viewers a real insight into the cut and thrust of local journalism this series follows big personalities out on assignments including:
The Donegal Post's Number One Social Diarist, Gabrielle McMonagle on her quest to meet Prince Charles.
Northside People's Tony McCullagh as he juggles writing racy comedy writing for Mrs Brown Boys with a conservative new management.
And The Nenagh Guardian's 'Doubting Thomas' Peter Gleeson as he investigates the healing powers of a Holy Well in Nenagh.
RTÉ One, Thursdays, 7.00pm