The Insiders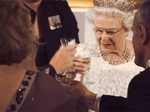 'It takes an hour to cross the Irish Sea but it took the British Monarchy a century'
In recent times Ireland has had many high profile events, which have been covered across the world by extensive television coverage. What is not known is how they were organised and how close they came to not happening at all.
On the eve of President Higgins' state visit to the UK this week we look behind the scenes at the State visit Queen Elizabeth II in 2011 and talk to the insiders who made it happen. We meet the key people who delivered the event and worked on the visit. And we hear from journalists and commentators about the hidden tensions and the impact the visit had on Anglo Irish relations.
For the Queen's visit there were months of preparations and once in a lifetime challenges for a number of key people. We meet Kathleen White, Head of Protocol at Department of Foreign Affairs, who was then responsible for the smooth running of the visit, OPW staff about how the venues were chosen and prepared and Comdt. Shane Fahy, who is Chief of Ceremonial for the Defence Forces, and former Garda Commissioner Martin Callinan on balancing the security required to protect the Queen over four days (followed by President Obama) while enabling the normal life and business of the country to proceed.
Journalist Pat Leahy explains the background tensions and concerns while RTÉ's John O'Regan, who was head of live events, tells of the huge challenge in bringing the visit to Irish homes and to a huge international audience. 'Most people in Ireland didn't see the Queen at all,' says O Regan, it was a television event. The man responsible for the iconic Reeling in the Years explains how he managed to position and disguise cameras so that the visit and the country could be seen at its best around the world.