The Insiders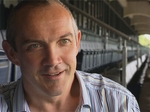 The Insiders is a new series that takes the audience behind the scenes to see how transformative events in recent history came about. From the opening up of Croke Park and ending of Rule 42; Riverdance, and how it reinvented Ireland's brand; the hosting of the Special Olympics; and the impact of the online travel revolution we talk to the insiders, those intimately involved at turning points of Irish history.
Episodes
Episode 1: The Last Ban
The inside story of the removal of the Rule 42 which prohibited soccer and rugby from GAA grounds and of how a proposal written in a county kitchen in Co Roscommon opened the way for the Queen's Visit. Insiders tells the story of the battle to remove the ban and of how the GAA did what was once unthinkable - opened the gates of Croke Park to Rugby and Soccer.
This programme looks how a proposal written on a country kitchen table suggesting other sports be played in Croke Park eventually laid its hand gently on the peace process. How the struggle within the GAA to amend "Rule 42" ultimately led to the unforgettable moment when Ireland played England in Rugby and 'God Save the Queen' was sung at Croke Park on the hallowed grounds fashioned from the struggle of 1916.
Kilmore Club member and local hero Tommy Kenoy tells how he and a group of Roscommon people wrote a motion on his kitchen table proposing the repeal of "the last ban" Rule 42. This is a man from the same county as Ireland's first president Douglas Hyde - a president who was censured by the GAA for attending a Soccer match.
We hear from players like John Hayes who despite growing up playing GAA was never in Croke Park until called to play for his country.
We hear from Conor O'Se the former international, asked by the English Rugby Football Union to explain to the team just what they were facing and why Croke Park was not just another pitch.
We see the debate and hear from both sides: those who wanted the status quo and those that wanted change. And we meet those involved, including GAA Director General Paraic Duffy and former Presidents Sean Kelly and Christy Cooney.
Episode 2 - Riverdance
Twenty years on we all know that Riverdance went on to conquer the world of entertainment, but for the first time this is the inside story of how a seven minute sequence of dance on a Dublin stage changed the people who were there, and the world of Irish Dance and music forever, and reinvented Ireland's brand internationally.
RTÉ One, Tuesdays, 7.00pm