The Good Wife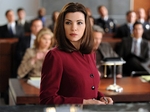 The Good Wife returns to RTÉ One for a sixth season, Tuesday 28th April, 10.15pm on RTÉ One
THE GOOD WIFE is a drama starring Emmy Award winner Julianna Margulies as a wife and mother who boldly assumes full responsibility for her family and re-enters the workforce after her husband's very public sex and political corruption scandal lands him in jail.
Pushing aside the betrayal and crushing public humiliation caused by her husband, Peter, Alicia Florrick starts over by pursuing her original career as a defense attorney. As a junior associate at a prestigious Chicago law firm, she joins her longtime friend, former law school classmate and firm partner Will Gardner, who is interested to see how Alicia will perform after 13 years out of the courtroom.
Alicia is grateful the firm's top litigator, Diane Lockhart, offers to mentor her but discovers the offer has conditions and realises she's going to need to succeed on her own merit. Alicia's main competition among the firm's 20-something new recruits is Cary, a recent Harvard grad who is affable on the surface, but will use any means to ensure that he, not Alicia, secures the one full-time associate position that's available.
Fortunately, Alicia finds an ally in Kalinda, the firm's tough in-house investigator. Gaining confidence every day, Alicia transforms herself from embarrassed politician's scorned wife to resilient career woman, especially for the sake of providing a stable home for her children, 14-year-old Zach and 13-year-old Grace. For the first time in years, Alicia trades in her identity as the "good wife" and takes charge of her own destiny.
WRITTEN BY: Robert King and Michelle King
DIRECTED BY: Robert King
Season 6
Episode 1 "The Line"
Alicia is adamant in her refusal to run for State's Attorney despite Eli's attempts to persuade her to launch a campaign. Meanwhile, as Diane considers joining Florrick/Agos as partner, an internal crisis threatens to destroy the firm, on the sixth season premiere of THE GOOD WIFE.
Seasons
Season 5
Episode 1 "Everything is Ending"
Alicia must focus on the firm's efforts to prevent the execution of a convicted murderer while she secretly plans her exit from the firm with Cary. Meanwhile, Eli helps Peter assemble his staff in the governor's office.
Jeffrey Tambor guest stars as Judge Kluger; Melissa George guest stars as Marilyn, Peter's ethics counsel; Ben Rappaport guest stars as lawyer Carey Zepps; and renowned defense attorney Barry Scheck guest stars as himself.
Episode 2 "The Bit Bucket"
Alicia and Cary get involved in a complicated case with Chumhum.
Episode 3 "A Precious Commodity"
Will makes Alicia an offer that has her reconsider leaving.
Episode 4 "A Precious Commodity"
Alicia tries to help a surrogate mother keep her baby
Episode 5 "Hitting the Fan"
Alicia's plan to leave is being made public, which causes her and Cary to work things out with a lot of their clients. Kalinda needs to make a decision regarding her loyality.
Episode 6 "The Next Day"
Lockhart/Gardner and Florrick/Agos battle for clients after their plan to leave is exposed.
Episode 7 " The Next Week"
Alicia and Cary believe Lockhart/Gardner is spying on them.
Episode 8 " The Next Month"
Alicia tries to stop a man from being deported to Mexico.
Episode 9 "Whack-a-Mole"
Lockhart/Gardner gets a new lawyer that makes an immediate impact.
Episode 10 "The Decision Tree"
Lockhart/Gardner faces off against Alicia over money left in a will.
Episode 11 "Goliath and David"
Episode 12 "We, the Juries
Episode 13 "Parallel Construction, Bitches"
Episode 14 "A Few Words"
Alicia looks to her past for inspiration when she is asked to deliver the keynote address at an American Bar Association conference in New York City. Meanwhile, the competition between Florrick-Agos and Lockhart-Gardner ramps up as each firm tries to align with a powerful Manhattan lawyer; and Will turns to an old acquaintance when it becomes clear that Nelson Dubeck's investigation into voter fraud isn't going away.
Episode 15 "Dramatics, Your Honor"
Alicia looks to her past for inspiration when she is asked to deliver the keynote address at an American Bar Association conference in New York City. Meanwhile, the competition between Florrick-Agos and Lockhart-Gardner ramps up as each firm tries to align with a powerful Manhattan lawyer; and Will turns to an old acquaintance when it becomes clear that Nelson Dubeck's investigation into voter fraud isn't going away.
Epiosde 16 "The Last Call"
Episode 17 "A Material World"
Alicia and Diane consider merging their firms in the wake of Will's death, even as they take opposite sides in a contentious divorce case. Meanwhile, Alicia offers her assistance to Finn when it becomes clear that the State's Attorney is looking for a scapegoat in the Jeffrey Grant case
Episode 18 "All Tapped Out"
Episode 19 "Tying the Knot"
Alicia becomes a reluctant witness when a body is discovered in Colin Sweeney's home while she is there. Meanwhile, an unfortunate picture of Zach threatens to become a public relations nightmare for Peter.
Episode 20 "The Deep Web"
Alicia considers options outside of her marriage when she meets a handsome entrepreneur, while serving on jury duty. To help think through the situation, she consults her mother. Meanwhile, Diane helps some friends when their son is accused of selling drugs on the Internet.
Episode 21 "The One Percent"
Alicia manages the fallout when her corporate CEO client's insensitive statements to the press threaten the fate of a multi-billion dollar merger. Meanwhile, Diane and Louis Canning take opposite sides in a class-action suit involving a pharmaceutical company; and Eli learns the truth about Alicia and Peter's relationship.
Episode 22 "A Weird Year"
Season 5 ends with Alicia and Cary learning about a threat to the firm when an open feed from a camera is left on following a teleconferenced deposition with Lockhart/Gardner. Meanwhile, Louis Canning vies for a larger role at LG; and Alicia entrusts plans for Zach's high-school graduation party to Jackie and Veronica

Season 4
Episode 1 "I Fought The Law"
Alicia goes on the offensive when Zach is targeted by an overzealous state trooper. Meanwhile, after her estranged husband tracked her down in last season's finale, Kalinda decides to stand her ground rather than continue hiding, and
Diane and Will delve into the firm's financial problems.
Episode 2 "And The Law Won" Season 4, Episode 2
Will goes for a home run on his first case back but may end up hurting the firm. Amidst staff and budget cuts at the firm, Will tries to help by turning down a low settlement offer in his first case back from suspension. Meanwhile, Alicia unexpectedly aids Peter's campaign,
Maura Tierney ("ER") guest stars as wealthy businesswoman Maddie Hayward and Nathan Lane returns as Clarke Hayden, the firm's appointed trustee
Episode 3 "Two Girls, One Code"
Lockhart Gardner represents two women who believe their website was sabotaged by a competitor. Meanwhile, Eli tries to cover up a story about an affair that may damage Peter's campaign. Kalinda involves Lana Delenay in the already complicated relationship she has with Nick.
Episode 4 "Don't Haze Me, Bro"
The firm represents the parents of a murdered boy who sue the school for having something to with their son's murder. Eli and Kalinda try to find proof Peter didn't sleep with another campaign worker ; and Maddie expresses her problems with the campaign. She also develops a slow friendship with Alicia.
Episode 5 "Waiting for the Knock"
Lockhart Gardner must help to cover up Mr. Bishop's illegal business. Meanwhile, Eli struggles to deal with a blog that posted a story about Peter.
Episode 6 "The Art of War"
Episode 7 "Anatomy of a Joke"
Episode 8 "Here Comes the Judge"
Will struggles to deal with a judge from one of his cases who made a comment about him outside the courtroom.

Episode 9 "A Defense of Marriage"
Alicia is surprised when Owen and their mother are coming by for a visit while she also has to deal with a tough case which involves a gay couple.
Episode 10 "Battle of the Proxies"
Will defends a man accused of murder, the same charge another person in a nearby county is facing. Meanwhile Kalinda has a hard choice to make when Nick's actions are becoming more dangerous by the minute. Alicia finds proof that her kids are growing up faster than she thought.
Season 3
Episode 1 - "The New Day"
While the staff at Lockhart/Gardner adjust to new realities and relationships, Alicia must put aside distractions in her personal life to defend a Muslim student accused of murdering a Jewish classmate.
Episode 2 - "The Death Zone"
When Alicia wins a verdict in a libel case involving a British
businessman, she must quickly learn to navigate English Law when the case is retried in British court via satellite. Guest stars as Queen's Council James Thrush and Simon Delaney as Timothy Ash Brannon.
Episode 3 - "Get A Room"
Alicia and Will go toe-to-toe with his ex during a court-ordered
mediation, while Eli and Diane clash over the best way to handle a dairy company's PR disaster.
Lisa Edelstein ("House") guest stars as Celeste Serrano, Will's exand opposing council.
Episode 4 - "Feeding the Rat"
While Alicia tries a pro bono case in which the witness becomes the suspect, Will and Diane discuss the firm's future.
Episode 5 - "Marthas And Caitlins"
Lockhart/Gardner's case against an aviation company takes a huge hit when their key witness commits suicide and his testimony is ruled inadmissible. The only other person with inside knowledge of the plane's design flaw is Colin Sweeney, a venture capitalist that Alicia defended on a murder charge two years ago who has been in jail ever since. But his testimony comes with a price - his freedom. And Cary won't let him go unless he agrees to wear a wire and get a jailhouse confession from one of the most dangerous killers in the Illinois prison system.
At the same time, Eli tries to get Peter the keynote address at the upcoming DNC while Alicia is told that she can take part in the hiring of a new first year associate....
Episode 6 - "Affairs of State"
While Alicia wades through diplomatic loopholes to defend a Taiwanese national, Eli is approached by his ex-wife to vet her for a possible political campaign.
Episode 7 - "Executive Order 13224"
Alicia worries that she will break confidentiality when the Treasury Department forces her to report on her latest client, while Peter reluctantly digs into Will's past transgressions.
Episode 8 - "Death Row Tip"
Alicia races to win a stay of execution for a guilty man who has information which will keep another client from a murder conviction. Meanwhile, Eli tries to get ahead of a client's potential scandal and Kalinda may have met her match.
Episode 9 - "Whiskey Tango Foxtrot"
Will and Alicia must go to military court.
Episode 10 - "Parenting Made Easy"
When someone close to Alicia goes missing she realises she has a tough decision to make. Kalinda makes a move that puts her closer to Alicia again. Michael J Fox returns as Louis Canning.
Episode 11 - "What Went Wrong"
Lockhart-Gardner's Legal Aid offers support to a policewoman who is accused of shooting her husband for insurance money. Alicia makes a sudden realization about her personal life, and Will finds out a shocking detail about Wendy's investigation.
Episode 12 - "Alienation Of Affection"
Lockhart-Gardner faces trouble when a recently divorced couple claims they influenced their separation for their own personal gain.
Episode 13 - "Bitcoin for Dummies"
Alicia defends a client charged with protecting the identity of the creator of an illegal currency. Meanwhile Elsbeth ( Carrie Preston ) still defends Will as he's a suspect in a bribe with several judges. Kalinda is also trying to find a way to help Will but finds out Will is not the only party ( Cary, Dana & Wendy Scott Carr ) that might need her help.
Episode 14 - "Another Ham Sandwich"
Will's judicial bribery case is brought before a grand jury.
Episode 15 - "Live From Damascus"
Lockhart/Gardner leads a class action suit against a software company that allowed the Syrian government to "disappear" American citizens. Also, Will faces a hard decision in the wake of the Grand Jury proceedings.
Episode 16 - "After the Fall"
Alicia's defense client is a documentary filmmaker accused of being the one responsible for a college girl's suicide. Will continues to serve his suspension at home with his two sisters keeping watch. Peter's campaign struggles when he realizes he has lost allies after hiring others based on merit only.
Episode 17 - "Long Way Home"
A sexual misconduct claim sends Alicia to help out Colin Sweeney, who is struggling to gain back control of his company.
Episode 18 - "Gloves Come Off"
Alicia faces off against Louis Canning in the courtroom, but discovers that she may have reason to join his firm.
Episode 19 - "Blue Ribbon Panel"
Alicia is invited to join a blue-riband panel investigating the details behind a police shooting, but she appears to be the only member interested in the truth.
Episode 20 - "Pants On Fire"
Alicia counsels a client whether to accept a strict plea deal. Meanwhile, Peter's newest political rival forces her back into the public spotlight.
Season 2
Episode 1 - "Taking Control"
Alicia makes her decision about whether to stay with Peter or pursue a relationship with Will.
Episode 2 - "Double Jeopardy"
It's Alicia against Cary in a trial of an Army reservist who was accused of murdering his wife. Meanwhile, Childs uses dirty tricks to mar Peter's campaign.
Episode 3 - "Breaking Fast"
A multi-million dollar suit leads to a confrontation between Alicia and Glenn Childs. Meanwhile, Alicia's brother, Owen, comes for a visits after his questionable remarks about Peter got to the internet and makes Eli apoplectic.
Episode 4 - "Cleaning House"
Alicia risks disbarment when Childs' office suspects her of an ethics violation, which could also ruin Peter's political campaign. Meanwhile, a third candidate is revealed in the campaign for state's attorney.
Episode 5 - "VIP Treatment"
Alicia and the partners must decide whether to take on the case of a VIP massage therapist who accuses a Nobel Peace Prize winner of sexual assault. Meanwhile, Peter and Eli try to figure out what Wendy's candidacy means for their campaign.
Episode 6 - "Poisoned Pill"
Alicia, Diane and Will have to work harder when they are caught off-guard by a brilliant disabled attorney, Louis Canning. Meanwhile, Peter's campaign does not know what to do with Wendy Scott-Carr, and Kalinda reaches to her former friend, Donna Seabrook, to try to stop telling all her secrets to Blake.
Episode 7 - "Bad Girls"
Alicia has to defend a teenage pop star, Sloan,who is innocent of a DUI until Cary drops big news that could ruin the starlet's career and life. Meanwhile, Peter's campaign hits a difficult point when the Democratic Committee tells him to drop out of the race.
Episode 8 - "On Tap"
When the government accuses an alderman of taking a campaign bribe from a Muslim extremist, the firm has then to review hours of wiretap evidence, and Alicia discovers some tapes about her.
Episode 9 - "Nine Hours"
When Alicia receives a compelling phone call in the weekend the whole firm is called in to rescue a man from death row who will be killed in 9 hours, by finding proof the man is innocent. Meanwhile Alicia fears her daughter Grace starts believing in God. Kalinda shares a secret about her past with Alicia.
Episode 10 - "Breaking Up"
Diane asks Alicia to make a tough decision regarding the company's split as Diane makes her decision official to Will.
Episode11 - "Two Courts"
The firm hires a jury consultant after discovering that the judge has a bias against Will. Meanwhile Kalinda informs Alicia and Will about the secret agenda that Blake is sharing with Bond; which causes her to over-think her future at the firm. And new developments bring Diane and Will closer again.
Episode 12 - "Silly Season"
Alicia Florrick defends a prisoner who confesses (under duress) to stabbing a fellow inmate with a shiv fashioned from a toothbrush, killing him.
Episode 13 - "Real Deal"
While battling an old rival to gain control of a class-action lawsuit, Alicia, Will and Diane discover that a traitor is in their midst. Meanwhile, the Florrick campaign tries to find a way to win the youth vote.
Episode 14 - "Net Worth"
Will and Diane take on a movie studio and screenwriter accused of defamation against a famous computer programmer. Meanwhile, Diane contemplates her relationship with Will on a cross-country trip, and Blake and Colinda come to blows.
Episode 15 - "Silver Bullet"
Diane is forced to defend Kurt when he is sued for a testimony he gave. Meanwhile Eli finds out that Wendy Scott Carr had an ilegal nanny that can provide as silver bullet for his campaign but is suprised to learn he developed feelings for Natalie ( America Ferrara ), the nanny. And Alicia is having a hard time accepting Grace new life path, named God.
Episode 16 - "Great Firewall"
The law firm of Lockhart, Gardner and Bond sues a social networking site on behalf of a Chinese dissident, meanwhile Will and Diane hope to wrestle the firm away from Derrick Bond once and for all. Cary informs Kalinda about the investigation in which Kalinda is the prime suspect due Blake. Alicia receives an unexpected offer.
Episode 17 - "Ham Sandwich"
Glenn Childs pulls Kalinda before the grand jury which causes Kalinda to enlist Alicia to defend her. Grace starts being more and more involved with her father's campaign due her belief in God. Blake discovers the biggest secret yet that Kalinda has been hiding.
Episode 18 - "Killer Song"
The firm has to deal with a unique case when they stand by the daughter [Gaby Hoffman] of a murdered woman who discovers the convicted killer wrote a song about the crime. Meanwhile Natalie [ America Ferrara ] returns when her father is in danger of being deported. Kalinda has to deal with her own mess and decides to talk to Peter about their past, but they discover that someone in the DA office may be able to blackmail them.
Episode 19 - "Wrongful Termination"
Will and Diane are surprised when they learn their old partner died and are even more suprised when they learn who bought his firm. A rumor about Peter's past brings Peter's campaign a lot of problems. Meanwhile Cary finds out about Kalinda and Peter after he goes to see Matan Brody.
Episode 20 - "Foreign Affairs"
A South American dictator creates legal problems between two companies. Alicia helps with Peter's campaign, then she finds out about him and Kalinda.
Episode 21 - "In Sickness"
Lockhart/Gardner defends a patient in a liver transplant case against rival attorney Patti Nyholm; however, the case takes a turn when Patti is fired from her law firm and asks Lockhart/Gardner to represent her. Meanwhile, Alicia deals with emotional fallout from Peter's one-night stand with Kalinda.
Episode 22 - "Getting Off"
Lockhart/Gardner defends Stephanie Engler, the owner of an adultery Web site, after one of her users is murdered; however, the civil case turns criminal when the murder is pinned on Stephanie. Alicia goes ballistic on Kalinda about her one-night stand with Peter, causing Kalinda to contemplate leaving the firm.
Episode 23 -"Closing Arguments"
Despite their tense relationship, Alicia and Kalinda rush to prove their client's innocence in a murder trial, while the timing might finally be right for Alicia and Willto pursue their relationship, on the second season finale of THE GOOD WIFE

RTÉ One, Tuesday, 10.15pm