The Fear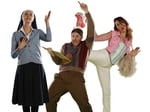 The Fear is back for a third season. Storming across Ireland with their hidden camera visiting Dublin, Galway, Cork, Laois and Kerry the show will feature plenty more pranks and generally spreading of The Fear...
This season will see the return of some familiar favourites including Irinka The Russian Streetwalker who has lost her pussy(cat), The Nun and Jimmy the most annoying man in Ireland. This series will see the introduction of an assortment of new characters Naomi the poshest English woman in Ireland and Sergeant Major who questions what the Irish public are made of; while Fred Cooke gatecrashes a wedding proposal at Electric Picnic.
Episodes
Episode Two
Episode two features Fred Cooke blindsiding an unsuspecting audience member at one of his shows, while Jennifer Maguire tests out an intern on 2FM's Breakfast Republic. Jimmy terrorises buskers on the streets of Galway and our Nun considers getting a tattoo.
Episode Three
Ireland discovers the newest dance craze when DOOKIE sweeps the nation. Elsewhere, Irinka recruits a resextionist to handle her "business" deals, Jimmy teaches some girls a lesson in teleportation and the bouncers target an unsuitably dressed shopper in the Blanchardstown centre.