The Fear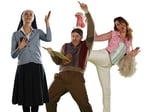 The Fear is back for a fourth season. Trawling around the country the gang will be up to their usual tricks, storming across Ireland with their hidden camera and generally spreading The Fear.
This season will feature plenty more pranks and see the return of all your favourite characters, Irinka The Russian Streetwalker, The Nun, Fred Cooke, Sergeant Major and Jimmy the most annoying man in Ireland.
Joining Hilary Rose, Ross Browne and Fred Cooke this season will be some special guest comedians including Dermot Whelan, Karl Spain and Martin Maloney.
The Fear returns on Monday, 14th September at 22.25 on RTÉ2