The Fear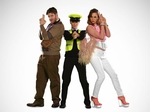 The Fear is a six part risqu hidden camera show, where unsuspecting members of the Irish public all over the country are accosted by bizarre characters. These include a pushy council woman (Jennifer Maguire) who attempts to annoy households around Dublin and Cork with her outrageous water meter. There is the return of the Eastern European Street Walker Irinka (Hilary Rose) who loves to involve the public in her quest for keeping clients happy. And outrageous and curious Jimmy (Ross Browne) attempts to achieve his daily to do lists and love for coffee. In this new series theyve stormed across Ireland pranking the public and spreading The Fear.
Episodes
Episode One
The gang from The Fear are back again and hit the streets of Dublin, Galway, Wexford and Limerick. In episode one Jennifer and her council team prank locals in Dublin as she attempts to install the new mandatory water meter. The unsuspecting public takes part in the resurrection of the Nuns new angels. The car park attendant gives one new employee a first day he will never forget, and the Fearo Heroes make Dublin their starting point for spreading cheer.
Episode Two

The gang return and this time they hit the streets of Dublin and Cork. Jennifer the animal rescue chugger attempts to dupe an unsuspecting tourist. Jimmy shows off his psychic abilities with the help of a tin foil hat, while Naomi trots around Dublin attempting to find the perfect lipstick. The nun asks sun bathers for a minute silence, while the singing pilot Fred Cooke takes a fancy towards some tourists with a musical twist.