The Fear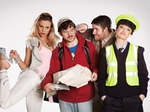 The Fear is a new six episode risqué hidden camera show, in which unsuspecting members of the Irish public are accosted by bizarre characters all over the country. Including the Irrational Zookeeper (Jennifer Maquire) who informs the visitors of ridiculous animal "facts". The Russian Street Walker Irinka (Hilary Rose) who just wants to make sure her army of "girls" are taken care of whilst trying to make a life for herself in this country. The Naked Man (Ross Browne) is...well..a naked man on a mission. And our forever lost American tourist Bobby Benderman (Chris Tordoff) drives people mad with his misinterpretations of Ireland. They've stormed across Ireland pranking the public and spreading the Fear. Tune in Monday nights at 9:30pm on RTÉ Two.
Episodes
Episode One
Jennifer Maguire and her band of merry comics hit the streets of Galway, Cork, Sligo and Dublin. Jennifer calls upon the men of Galway to assist with her audition for 50 Shades. A Cork plumber is given a naked surprise. Irinka the Russian Street Walker gets a Sligo man to help her look for a suspicious delivery. Bobby Benderman the American Tourist tries to find Stonehenge in Killarney. And Jimmy the most annoying man in Ireland educates the public on outer space.
Episode Two
This week Jennifer Maguire and the Fear team are in Dublin, Cork, Sligo and Galway. Special guest Georgia Salpa enlists the help of some Irish lads in her spandex filled exercise video.
The Security Guard recruits the help of a passerby to assist with a suspected robbery in progress.
Politician Terrance Ryan informs a family of plans to build a sewerage plant across from their house.
Our promiscuous Nun is on the search for a pleasure instrument and Jimmy teaches someone how to use a shopping trolley.
Episode Three
Jennifer Maguire and the crew hit up Dublin, Cork and Galway this week. Jennifer, with two broken arms, gets someone to help her with an awkward phone call. Politician Terrance Ryan asks a Dublin woman to try a new accent to help with his Cork campaign while Bobby Benderman deals with small bladder issues. The irreverent Nun voices her opinion when she get's unexpectedly clamped and a sleepy business man takes a snooze in the least likely of places.
Episode Four
This week on The Fear. Jennifer displays her fresh collection of penis painting on the Merrion Square railings. Irinka offers to take people on a ride in her carriage. Our American Tourist, Bobby Benderman gets people to help with his unusual video blog. Jimmy needs some last minute ingredients for dinner from the pet shop and romance is in the air when strangers pretend to be lovers in order to win a prize on a dating show.