The Family Project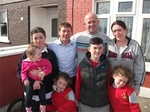 Between the pressures of work, keeping the house straight, minding kids and making ends meet having a family in Ireland today is no easy job. Finding time to do the homework can be a real challenge. Finding ways to make learning fun and interesting can sometimes seem impossible.
The Family Project is new series that teams up six well-known and inspirational people with six very different families who are struggling with life's many challenges. They will mentor the family and it is their task to help their family better manage their lives, overcome the obstacles holding them back and give them the tools they need so they can do more with their children with everyday learning. We all worry if our children are getting the best education they can, we want the best for them - this series will inspire parents all over Ireland to do more in the home to help their kids learn in fun and engaging ways.
It is a forgotten fact that parents in the home are the primary educators in life. The Family Project will follow the six mentors and six families from around Ireland as they work together to overcome the issues that affect their lives as a family.
Champion jockey Johnny Murtagh, ex TD Mary O'Rourke, GAA star, social activist and writer Tony Griffin, entrepreneur Padraig Ó Céidigh, author Sheila O'Flanagan and comedian Jon Kenny - all with their own unique experience with education - are there to encourage the family to do the best they can for each other.
This series will show families how through simple changes in their day-to-day lives, by learning new skills and pushing themselves to new heights they can enrich their lives and the lives of their children by learning together.
Episodes
Episode One
In episode 1 we meet the Doyle-Farrell family from Clondalkin. Wes and his partner Linda have a busy house with five children from a 19-month-old up to a 16-year-old. Wes has a passion for horses and when champion jockey and trainer Johnny Murtagh arrives into the family as a mentor their lives are transformed. Johnny enables them as a family to realise that through simple changes and having a bit of self-belief, anything is possible. Johnny himself left school at a very early age and his example proves to be a fantastic inspiration to Wes and his family.
Wes left school after his Junior Cert and has recently been thinking about going back to do his Leaving Certificate. He wants to do it for himself but also as an example to his children. 11-year-old Luke has been losing interest in school and they are keen to look at ways the younger girls in the family can play together in a way that makes learning fun. But with everything that is going on in their lives it is hard
Wes is involved in the local horse club that takes in abandoned horses and cares for them. Meeting Johnny Murtagh is a dream come true for him and it gives him the push he needs to change his life for the better.
Episode Two
We meet Cork-based single Dad Kieran O'Brien and his three children Saoirse (9), Sean (5) and Shannon (4). Former minister and TD, Mary O'Rourke mentors him.
Kieran has a busy schedule with the three children and has been proactive and involved in their education and learning in the last few years. With them all doing well in school now he is keen not to 'take his foot off the gas' and wants to find fun, educational ways to engage the kids after school and at weekends. Mary O'Rourke arrives into the house to help Kieran on this journey. Mary knows only too well about the demands of juggling children, education and home-life. She is eager to help Kieran find much needed time for himself as well.
Being a single dad, Kieran finds it challenging to juggle housework, homework, playtime and all the things that make up modern family life. Together, Mary and Kieran go on a journey that will improve and enrich life in the O'Brien household and open up new and exciting possibilities for the entire family.
Episode Three
In programme three we meet Donna Lynch and her three kids, Lydia (14), Jonathon (12) and Aaron from Tallaght, Co. Dublin. Lydia, the eldest, has always wanted to be a writer so when best-selling author Sheila O'Flanagan arrives at the front door it's a dream come true.
This story follows Lydia, Jonathon and Aaron as they overcome all sorts of obstacles to write their own children's book.
All three of them, under the guidance of Sheila, contribute to the writing, drawing and content of this book. It's an emotional journey for Donna as she watches her three children work together to create their own book, each drawing on their individual strengths. Donna has always believed in the benefits and importance of education. In recent years Donna has gone back to education and now has a degree in community education.
With a book launch for over 100 people planned to take place at the end of the 6 weeks spent on this project, it's up to each of them to pull out all the stops to make this a family project they will all remember forever.
Episode Four
Finbarr and Marquerite O'Regan from Galway own and run a sailing school in Galway harbour. They have four children aged between six and 16 who all have different levels of literacy levels, strengths and weaknesses.
Finbarr works seven days a week building his business so juggling family life and work life is proving to be a challenge. Both Finbarr and Marguerite would love to find opportunities for the family to learn together doing things they love. Finbarr, like a lot of working dads out there, would love to have more of a role in his kids' education. He just can't seem to find time to do it.
Padraig O'Ceidigh is one of Ireland's most successful entrepreneurs. Padraig knows all too well the challenges of balancing work and family. An ex-teacher, Padraig is passionate about education and is eager to pass on any advice he can to Finbarr about putting in a better structure with life and work.
With the help of one of Galway's top family learning specialists and Padraig's advice, the family embark on a project together. The mission is for each child to to create their own individual blog for the company's new website. This will provide information on the school, area and wildlife. With a strict deadline before the website launch we follow this family as they overcome hurdles to get the project done.
Episode Five
Catriona Pearl lives with her 2 year old daughter Aimee and her nine-year-old son Kieran in the beautiful village of Sixmilebridge , Co.Clare. Catriona had her suspicions about Kieran having some learning difficulties for the last few years. She got him assessed earlier this year and it was confirmed he had dyslexia. One in 10 families in Ireland has somebody in it with dyslexia - at all type of levels - and because it is genetic it is often the case there are more than one family member. The school and local community resources have grown significantly in the last few years but people still panic when they hear the word 'dyslexia'. .
Jon Kenny - one half of the infamous D'Unbelievables , comedian, musician and actor has been living with dyslexia all his life. Like so many dyslexic people from his generation there would have been no support or understanding in his school system or in helping him deal with this diagnosis. He has his own coping mechanisms and still finds reading and writing difficult. He is keen to share his experience with Kieran and Catriona in an effort to embrace and move forward with this new diagnosis and look at the positive ways of living and dealing with this learning difficulty. Catriona also meets a local expert who listens and guides her on the next step for Kieran and the family.
Jon is eager to boost Kieran's self confidence. The challenge is that will perform a two man show in front of an audience of 100 people in a few short weeks. Kieran must help write the script, make the props and come up with the ideas. We follow the pair as a friendship forms and their creative challenge starts to take shape on what becomes a life changing experience for Kieran.
Episode Six
In the final episode of The Family Project Yvonne Keating heads to Kilkenny to help Andrea Barry with her two sons, Dylan, 8 and Cameron, 3. The two boys don't get on, and Yvonne is on a mission to help bring harmony to the household. She comes up with the idea of the three of them working on a 'life book', collecting all their family memories with photos, pictures and stories. During the programme Yvonne spends some time with Dylan, to understand why he finds spending time with his younger brother so hard. Through working together the boys realise that they really can be friends and Dylan sees that he can help teach his younger brother all about the world. The life book is launched to family and friends, and Dylan, with Yvonne's help, has a big surprise for his mum.