The Business Series 2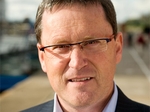 RTÉ One, Monday, 8.30pm

The Talk Talk closure, Aviva Job losses - the employment landscape is looking grim.
But imagine sourcing thousands of jobs just by changing the rules or thinking outside the box? The Business has done just that.
George Lee's TV series The Business returns to our screens this Monday night (November 14th) and it has managed to find thousands of potential jobs over the half hour episode.
"There's been such a focus on recapitalising the banks and bringing down the deficit, and meanwhile the rate of unemployment is still going up," explains Lee.
So the series launched The Business Jobs Crusade. It's part of RTE's Local Heroes campaign which aims to stimulate jobs and growth.
"We did a call out last September on The Business radio programme," he says. "We asked people to get in touch with ideas for job creation just by tweaking the rules, or thinking outside the box."
Episodes
Episode One
The Business, RTÉ One on Mon Nov 14th at 8.30pm
First in Lee's sights was the issue of public procurement.
"The government spends €15 billion a year on state contracts. We were contacted by small and medium business with some shocking stories of losing those contracts by very small margins to companies outside the state. And of course, this has a knock on effect on job creation."
The Business discovers how many jobs could be created if the government used job creation as a factor when it comes to deciding who gets state tenders. "It's joined up thinking," explains Lee.
"If we're serious about job creation, we need to stop just thinking about price and start looking at how this money will benefit the wider economy."
Lee travels around the country on his Jobs Crusade examining all kinds of areas, from imaginative use for vacant buildings, to new ways of helping people start up in business to tweaking social welfare rules.
The episode ends with a good news story.
"People are really starting to look at things differently," says Lee. "There's a huge demand for Irish organic farmed salmon but red tape and bureaucracy are stopping people establishing those farms. BIM has stepped in to change that. This is the marine equivalent of the IDA advance factory programme. BIM will look after the licences and then attract foreign investment in. They're planning 3 farms with up to 1500 potential jobs in coastal areas."
So how many jobs did The Business create? "You'll just have to tune in," smiles Lee. "But I think people will be pleasantly surprised!"

Episode Two
The Business, RTÉ One on Mon Nov 21st at 8.30pm
Ireland 'Bright Light' in European Story
Italy is in melt-down, there are riots on the streets of Athens and now the markets have turned their sights on Italy. But of course, Ireland had to deal with all of this one year ago this week.
As we approach the anniversary of Ireland's infamous bail-out, RTE One's The Business travels to London and discovers the international markets and commentators believe we're the Bright Light in the story.
Presenter George Lee meets the people who hold Ireland's future in their hands and discovers what they're saying about us now. He also finds out why we got it so wrong in the first place.
"We interviewed the former Chancellor of the Exchequer Alistair Darling and he puts all the blame on our bank bail-out in Sept 2008," explains Lee. "He describes how Brian Lenihan rang him to explain what he'd done and Darling was very worried other countries would be forced into doing exactly the same thing and everything would come tumbling down."
The Business also finds out how our reputation is doing now - one year on and if austerity is working.
"We spoke to traders and economists," says Lee, "and it seems our reputation is slowly coming round, mainly because we took such quick action to get back on the path to adjustment. And while we all find it painful, London is saying austerity is working to get us back on track. In fact, we speak to one commentator who claims we're the bright light in this story and Ireland has very good growth prospects."
Episode Three
The Business on RTÉ One on Mon Nov 28th at 8.30pm
Are you frightened to open your energy bills?
22% hikes across the board and we all know the weather's just going to get colder.
Will Ireland be a sitting duck as the price of oil and gas goes ever higher?
Or is it possible to take control of our Energy future ?
The age of cheap energy is over and Ireland is particularly vulnerable.

Tonight on 'The Business' George Lee travels around the country to try and find solutions.
His journey takes him from wind farms in the west of Clare to a tidal wave company in Dundalk .
He discovers if our energy future is renewable or will we be forced to take the nuclear option?

Episode Four - What can the Diaspora do for us?
The Business on RTÉ One at 8.30pm on Dec 5th
For years we called them Plastic Paddies but now that Ireland has fallen on bad times, many are looking to our Diaspora to help bail us out. Tonight on The Business, George Lee chats to former President Mary Robinson, who first brought the diaspora to the Irish public consciousness. He goes on the emigrant trail to London to discover a highly advanced network of people who are tapping into the 70 million people worldwide who claim Irish ancestry.
But he also discovers we could be doing a lot more when he drops into the Global Irish Forum in Dublin Castle.
And he finds out exactly how we could help ourselves right now through education and tourism.
Episode Five - There's No Recession Online
The Business on RTÉ One at 8.30pm on Dec 12th
This week on The Business, George Lee meets the entrepreneurs who run on-line companies and finds out why their business is booming and why for them recession spells opportunity.
In the gold rush that is on-line, we show you how to make your own mark with a free commerce enabled website, how to use apps to drive business and how to harness chaos by solving problems for customers and spotting gaps in the market.

Episode Six - The Business Christmas Towns Competition
The Business on RTE One on Dec 19th at 8.30pm
Towns all over Ireland will be watching RTE One avidly this Monday night (Dec 19th) as RTE Cork's The Business reveals LIVE the winners of its Christmas Towns Competition.
Last November the series sent out a call for the most innovative and imaginative ideas towns came up with to encourage people to shop locally this Christmas.
"We got a great response," explains presenter George Lee. "It's very encouraging to see how business and communities have come together all over the country to encourage people to spend locally."
There are three categories - small, medium and large and the competition has managed to narrow it down to 3 nominees per category.
So in the Small Towns category, the nominees are Fermoy in Co. Cork, Donegal town and Ennistymon in Co. Clare.
The Medium Towns Category feature Nenagh in Co. Tipperary, Wicklow town and Kells in Co. Meath.
And finally the Large Town nominees are Dun Laoghaire in Co. Dublin, Ennis in Co. Clare and Killarney in Co. Kerry.
The Business is coming live from the large winning town this Monday night and it should be a very festive programme.
"We have three well known judges to decide on who are winners are," explains George Lee. "Founder and MD of Lily O'Brien's Chocolates Mary Ann O'Brien, Consumer Affairs Correspondent Conor Pope and Tailor to the Stars, Louis Copeland will all reveal our 3 winners on the night."
"Along with that, we'll have choral music and some lovely Irish gift ideas to encourage everyone to support Irish this Christmas."
All nine nominated towns will feature on the show so people from Donegal to Cork will be tuning in just to see how their town fared this Monday night.