The Business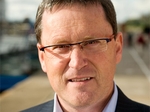 RTÉ One, Monday, 8.30pm

The new series of The Business looks at bankruptcy, barriers to business, young entrepreneurs, the importance of brands, our education system and job creation.
Series 3
Series 3, Episode 1 (of 6) - Bankruptcy
Monday 6 February at 8.30pm on RTÉ One
Sean Quinn tried to do it. Dublin's Priory Hall Developer Tom McFeely is also attempting it. As our businessmen and developers flee to Britain to absolve themselves of bankruptcy after just one year, RTE's George Lee asks should we change our laws to allow Irish bankrupts to do the same?
This week the government published the Personal Insolvency Bill where it proposes bankrupts be discharged after 3 years as opposed to the current 12 years. It's hoped the new legislation will stop bankruptcy tourism. But the 3 year proposal is still 2 years more than it currently is in the UK. So should we go the same route as the UK and allow bankrupts be discharged after just one year?
This is the question George Lee poses on the new series of RTE One's The Business which is being broadcast this Monday evening (Mon Feb 6th at 8.30pm)
In the RTE show, George meets ordinary people who made personal guarantees against their business and are now facing the spectre of bankruptcy.
"Globally attitudes to bankruptcy have undergone a revolution with much greater recognition to the importance of freeing up business people to grow and contribute to employment again," says George Lee. "However in Ireland we're still very far behind the curve."
Series 3, Episode 2 (of 6) - Barriers to Business
Monday 13 February at 8.30pm on RTÉ One

An Australian tech millionaire who wanted to invest in Ireland has revealed he was denied a Green Card on three separate occasions. Bill Liao, who heads up SOS Ventures which has a fund of €150 million, has already set up two charities in Ireland but had to go through a gruelling application process with the Department of Justice in order to become a tax payer here.
Bill tells his shocking story on RTE One's The Business with George Lee this Monday night (Feb 13th 8.30pm)
The government recently announced its Immigrant Investor Programme which is designed to encourage people from outside the country to invest. Under the previous scheme foreign nationals who had a minimum of €300,000 to invest and could create at least 2 jobs were eligible for residency.
Despite this, Liao - who has already invested in 8 start up companies - was refused three times. Liao set up the charity Coder Dojo with 19 year old Cork web entrepreneur James Whelton. This is a voluntary charity that encourages children to learn computer code The movement, which led to Apple's youngest ever App developer, 12 year old Harry Moran, has now spread throughout Ireland and it's about to go global, with meetings being set up in London, New York and San Francisco.
But when he applied for a Green Card he was refused three times.
Liao's story is just one of the Barriers to Business George Lee focuses on in tonight's show. Others include How to Start, How to Source Money, How to Expand and How to Create a Start Up Environment.
Series 3, Episode 3 (of 6) - The i Generation

Monday 13 February at 8.30pm on RTÉ One
Tonight we meet the Bill Gates and Steve Jobs of tomorrow: Irish students and teenagers running successful companies. As George Lee discovers, if our future is in the hands of our young people, that future is in great hands.
Big dreams are being realised. Endeavour Companies have a combined valuation in excess of E15 million. Young Entrepreneurs are already on their way in the world of business, making money from exciting computer applications and inventions they started to build at their kitchen table:
. From Portmagee, near Valentia Island, Kayleigh Hussey is a 15- year-old schoolgirl whose Sailaway project will get rid of hundreds of old metal ships rotting away on our rivers and hidden coves and attract thousand of extra tourists to new maritime playgrounds.
. Three Tralee lads have brought computer games back into the daylight with a new Social Gamers business, already making money and now being supported by Facebook.
. And George meets the enterprising trio from Dingle who invented a new board game which uses the Junior Cert examination curriculum.
We meet students who have gone on to make successful businesses in the past two years -
. Katie Pierse O'Shea (Former YEP 2nd level finalist - Rowling Gloves
. Dr. Lisa O' Donoghue (former YEP 3rd level winner - ALR Innovations
. Others featured in this special edition include Daragh Murphy the founder of the iconic Hairy Baby clothing line, Jane Ní Dhulchaointig whose invention Sugru, is already being spoken of as a billion dollar company, and Tara Haughton (Rosso Solini) whose coloured shoe soles are already a worldwide hit.
Thanks to the inspiration and vision of Kerry man Jerry Kennelly, Tralee ITC and Shannon Development, 2,500 children have already learned the skills behind being a successful entrepreneur. The Kerry businessman made a fortune on the sale of his business to Getty and is now developing another company, Tweak.com, a world leader in online design and based in Killorglin. Jerry believes Ireland is a great place to work from and having pioneered the Young Entrepreneur programme in Kerry he believes it can be rolled out to every Irish school, with the potential to be as important a date in the Irish calendar as the Young Scientist competition.
Series 3, Episode 4 (of 6) - Branding
The Business on RTE One on Monday 27th Feb at 8.30pm
This week, The Business reveals the secrets of branding.
It takes four seconds for consumers to make up their mind about what product they choose so what are the secrets behind branding? Tonight RTE One's The Business reveals all.
How do the world's top brands maintain their dominance? And what about the flops? The Business discovers what happens when things go wrong.
The biggest secret behind a successful brand can often be the way it tells a story. 'Emigration has been a key theme behind some of the most successful ads ever made," reveals advertising guru John Fanning. 'From the Harp Sally O'Brien ad to the ESB's Going Home ad. People respond emotionally when you tap into a society's collective anxieties.'
From Bulmers to Tayto, tonight's show discovers what makes our household brands tick.
But presenter George Lee discovers brands are not just the preserve of big corporations. The programme finds a Cork restaurant and a co-operative of pig farmers who are in the process of creating new brands.
Series 3, Episode 5 (of 6) - Ireland's Education

The Business on RTE One on Monday 5th March at 8.30pm
Is Ireland's education system failing to prepare children for the 21st century? That's the provocative question asked by RTE One's The Business.
Presenter George Lee discovers while other countries are forging ahead to reform their education system, Ireland is being left behind. He travels to Finland, one of the highest ranking countries in the world when it comes to education and innovation. The "tiger mom" model in which children are pressurised to succeed has been rejected by the Finns. They have created a no stress, child centred system with less homework and little emphasis on exams. But by tearing up the education rule book, they've brought their country out of recession. Tonight's programmes asks could Ireland do the same and do we even accept that we have a problem?
"The consequences of not reforming our education system means Ireland is in danger of permanent, second, third and eventually fourth world status," says Oscar-winning film producer Lord David Puttnam who is a passionate defender of education and now lives in West Cork.
Tonight George talks to teachers, business in Finland and Ireland and the Minister for Education Ruairi Quinn. All identify weaknesses in the Irish system but offer possible solutions. Tonight's show is essential viewing for all parents and anyone involved in the Irish education system.
Series 3, Episode 6 (of 6) - Jobs
Minister Brian Hayes who is charge of public procurement has said the creation of jobs will now be a criteria when it comes to the issuing of public procurement contracts. The Minister was responding to RTE's The Business presenter George Lee who had highlighted the inadequacies of the system late last year.
The Business had revealed the case of Feile Foods - a meat processing company in Portlaoise who had lost out on a €2.5 million contract to supply the country's prisons with meat by only €6,000. The contract had gone to a British company despite the fact that Feile Foods would have created 8 extra jobs if they had won.
Last November George Lee put this case to Minister Hayes and the Minister had said he would discuss the issue of putting jobs as a criteria for public procurement with his European colleagues.
Tonight on The Business, the Minister reveals the government will now be asking Irish companies to show how many jobs can be created as part of their tender process.
The interview is part of The Business Jobs Crusade where George Lee discovers thousands of potential jobs in areas that have yet to be tapped. Last November, George travelled all over Ireland and sourced over 16,000 jobs. Tonight, he's back on the road, exploring areas we have yet to exploit such as our coastline, tourism, our sugar industry and using pension funds to build infrastructure and create jobs.