The Big Bang Theory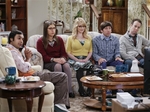 Leonard and Sheldon (series stars JOHNNY GALECKI and JIM PARSONS) are brilliant physicists - geniuses in the laboratory, but socially challenged everywhere else. Enter beautiful, street-smart neighbor, Penny (series star KALEY CUOCO-SWEETING), who aims to teach them a thing or two about life. Despite their on-again, off-again relationship in the past, Leonard and Penny have finally gotten engaged. Even Sheldon has found a female companion - entering into a "Relationship Agreement" with neurobiologist Amy Farrah Fowler (series star MAYIM BIALIK), who recently asked him to take a break because she became frustrated with how slowly their relationship is progressing. In their free time, Leonard and Sheldon enjoy fantasy role-playing games with their ever-expanding universe of friends, including fellow scientists Raj (series star KUNAL NAYYAR) and Howard (series star SIMON HELBERG), and Howard's adorable microbiologist wife, Bernadette (series star MELISSA RAUCH).
SEASON 9 SEE IT FIRST
Season 9, episode 1
"THE MATRIMONIAL MOMENTUM"
In the ninth season premiere, Penny struggles with Leonard's confession that he kissed another girl while on the North Sea. After driving to Vegas, Penny must now decide whether she wants to go through with the wedding. Back home, Sheldon doesn't know how to act after Amy pushes pause on their relationship.
Series 9, episode 2
"THE SEPARATION OSCILLATION"
After Amy breaks up with Sheldon, he tries to retaliate by filming a special episode of "Fun with Flags." Leonard, meanwhile, confronts the woman he kissed on the North Sea in an attempt to put Penny's mind at ease, and Bernadette feels guilty about withholding a secret from Penny.
Series 9, episode 3
The Bachelor Party Corrosion
The guys' science skills are put to the test when they get a flat tire during Leonard's surprise bachelor party weekend in Mexico. Meanwhile, the girls force Penny to finally tell her family that she eloped with Leonard.