The Big Bang Theory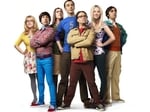 From Emmy® nominees Chuck Lorre (Two and a Half Men, Dharma & Greg, Cybill, Mike & Molly) & Bill Prady (Dharma & Greg) comes THE BIG BANG THEORY, the story of two brainy best friends who could tell you anything you want to know about quantum physics - but when it comes to dealing with everyday life here on Earth, they're lost in the cosmos. Nominated multiple times for both Emmy® and Golden Globe Awards for Best Television Comedy, in addition to winning the 2013 Critics Choice Television Award for Best Comedy Series, three-time winner of the People's Choice Award for Favorite Network TV Comedy (2010, 2013, 2014), two-time winner of the Television Critics Association Awards for Outstanding Achievement in Comedy (2009 & 2013) and two-time winner of the TV Guide Award for Favorite Comedy Series (2010 & 2013), THE BIG BANG THEORY stars Johnny Galecki (Roseanne, Hope & Faith, Vanilla Sky), Jim Parsons (The Normal Heart, The Muppets, Garden State), Kaley Cuoco-Sweeting (Hop, Charmed, 8 Simple Rules, Growing Up Brady, Virtuosity), Simon Helberg (Studio 60 on the Sunset Strip, A Serious Man, For Your Consideration, MADtv, Good Night, and Good Luck.) Kunal Nayyar (Sullivan & Son, Ice Age: Continental Drift), Mayim Bialik (Blossom, Beaches, Curb Your Enthusiasm) and Melissa Rauch (True Blood, The Office, I Love You Man).
SEASON 8 SEE IT FIRST
Episode 1
When Sheldon is forced to teach a class, Howard surprises everyone by taking it. Meanwhile, the tension between Penny and Bernadette gives Amy a chance to play both sides. Guest star REGINA KING returns as Mrs. Davis, the University's Director of Employee Relations.
Episode 2
Howard is nervous when NASA asks him to throw out the first pitch at a Los Angeles Angels game for National Space Day. Also, Leonard and Penny try to prove Sheldon wrong after he claims that he and Amy are a superior couple.
Episode 3
Raj's honesty about his past comes back to bite him after his girlfriend, Emily (recurring guest star LAURA SPENCER), gives Penny the cold shoulder. Meanwhile, the guys consider becoming part-owners in Stuart's comic-book store.
Episode 4
Raj's girlfriend Emily (Laura Spencer) gives Penny the cold shoulder when she learns about his past. Meanwhile, the guys debate investing in Stuart's comic-book shop and becoming part owners of the business.