The Big Bang Theory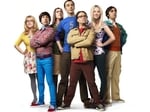 Created by writer/producers Chuck Lorre (of Two and a Half Men) and Bill Prady (of Gilmore Girls) comes The Big Bang Theory, a sitcom that shows what happens when hyperintelligent roommates/physicists Sheldon and Leonard meet Penny, a beautiful woman moving in next door--and realize they know next to nothing about life outside of the lab. Rounding out the crew are the smarmy Wolowitz, who thinks he's as sexy as he is brainy, and Koothrappali, who suffers from an inability to speak in the presence of a woman. The show distinguishes itself by being unafraid to toss scientific references and technobabble into an otherwise standard sitcom, even employing a physicist to keep things accurate. In doing so, it allows Sheldon and Leonard to do for science what Frasier's Crane brothers did for fine dining, art, and opera.
Season 7
Episode One - "THE HOFSTADTER INSUFFICIENCY"

Leonard and Sheldon (series stars JOHNNY GALECKI and JIM PARSONS) are brilliant physicists -- geniuses in the laboratory, but socially challenged outside of it. Enter beautiful, street-smart neighbor, Penny (series star KALEY CUOCO), who aims to teach them a thing or two about life. Despite their on-again, off-again relationship in the past, Leonard believes he's found true love with Penny. Even Sheldon has found a female companion -- entering into a "Relationship Agreement" with neurobiologist Amy Farrah Fowler (series star MAYIM BIALIK). In their free time, Leonard and Sheldon continue to enjoy frequent trips to the comic book store and fantasy role-playing games with their ever-expanding universe of friends, including fellow scientists Raj (series star KUNAL NAYYAR) and Howard (series star SIMON HELBERG), and Howard's adorable microbiologist wife, Bernadette (series star MELISSA RAUCH).
Episode Two - "THE DECEPTION VERIFICATION"
On the second part of the one-hour seventh season premiere, Raj gets consoled about his ex-girlfriend and Howard's relationship with his mother causes an unusual threat to his masculinity. KEVIN SUSSMAN returns as Stuart, the comic book store owner.
Episode Three - "THE SCAVENGER VORTEX"
When the entire gang competes in a cutthroat scavenger hunt designed by Raj that tests their science knowledge and street smarts, it brings out the best -- and worst -- in everyone.
Episode Four - "THE RAIDERS MINIMIZATION"
After Amy ruins one of Sheldon's favorite movies -- Raiders of the Lost Ark -- he gets defensive, seeking revenge. Meanwhile, Leonard discovers a way to get Penny to do anything; and Raj and Stuart create online dating profiles.
Episode Five - "THE WORKPLACE PROXIMITY"
Sheldon must decide how much "Amy time" is too much after she takes a job at his university, and their relationship is put to the test. Meanwhile, Howard finds himself sleeping on Raj's couch after a fight with Bernadette.
Episode Six - "THE ROMANCE RESONANCE"
Sheldon's latest scientific breakthrough makes him feel like a fraud -- and threatens to haunt him forever. Meanwhile, Howard's romantic gesture to Bernadette causes Penny to step up her game with Leonard.