The Zoo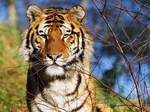 About the Series
Now entering its fifth season, The Zoo will once again bring to life the emotion and passion the zookeepers of Dublin Zoo have for the animals they care for in a dramatic and highly entertaining new series.
This year's show features lots of new animals and their stories, from the arrival of the exotic and highly-endangered okapi to the birth of baby monkeys - a white-faced saki baby and pygmy marmoset twins.
Other stories include how keepers care for an iguana with a sore limb and how a rhinoceros calf gets on when introduced to the rest of the rhinoceros herd.
There are lots of births celebrated in the show such as red-ruffed lemurs, Abyssinian ground hornbills and white crowned mangabeys. Other animals featured include giraffes, zebras, ostrich, Indian blackbucks and Amur tigers amongst others.
The new series also leaves the Phoenix Park to follow the zookeepers as they visit conservation projects funded and supported by Dublin Zoo. Keepers will travel from the nest sites of barn owl chicks deep in the Irish countryside to the rainforests of Brazil to visit highly endangered golden lion tamarins in their native habitat.
Narrated by Tom Dunne, last year's series of The Zoo has been nominated in the factual category at this year's IFTA awards, and this year's series promises to be even better.
Episodes
Programme One
In this week's episode, Dublin Zoo welcomes two exotic new arrivals who are critically endangered in the wild, a pair of beautiful and highly unusual okapi
There's great excitement at the South American house when the keepers say hello to the newest member of the white faced saki family.
And a green iguana with a mysterious foot injury keeps zookeeper Garth guessing.
Programme Two
In this week's episode, two newly-arrived okapis take their first tentative steps outside into their new habitat;
The zookeepers try to get to the bottom of Leoni the orang-utan's mysterious cough;
And Yvonne leaves Dublin Zoo to travel deep into the Irish countryside in search of barn owl chicks
Programme Three
A baby Abyssinian Ground Hornbill needs a helping hand from Eddie and his team;
A vital operation is needed for a young giraffe with severe pain in her leg;
And a rhino calf meets his dad for the first time, and to everyone's delight, joins his mum for his first clumsy run out in the African plains section.
RTÉ One, Thursday, 7.00pm
Useful Links for Dublin Zoo