The Zoo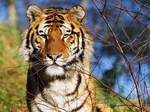 About the Series
Back for a sixth season on April 9th on RTÉ One, 'The Zoo' will once again showcase the passion and expertise the team at Dublin Zoo has for the animals in their care. This season, this magical show captures the happenings of the Zoo over ten episodes during an incredibly exciting time for all involved there!
There are 'large' expectations with the announcement of three elephant pregnancies, crucial for the conservation efforts surrounding the Asian elephant. The show follows the progress of the herd, the momentous three successful births and watches on as the new elephant calves enjoy their first play time with each other.
There are plenty of other birth stories to follow including the arrival of lion cubs for both lionesses Sita and Suri at the Asian lion habitat. There's also cause for celebration around a new addition to the zebra herd with the birth of a new foal. The baby boom continues with the birth of a Goeldi's monkey and the hatching of new flamingo chicks to add to the new arrivals.
Other stories include the arrival of Marlon, a West African chimpanzee who the team hope will take on the role of alpha male and breed with the Zoo's resident female chimpanzees. Viewers will have to wait to see how this goes down with the current alpha male Austin as he gets used to this change.
The new series leaves the Phoenix Park to follow the zookeepers as they visit some of the Irish and international conservation projects funded and supported by Dublin Zoo including an incredible journey to Zimbabwe where zookeeper Kenneth Mackey witnesses first-hand the battle to save black and white rhinoceros from extinction.
Tune in at 7pm on April 9th on RTÉ One for this dramatic and highly entertaining show.
To join in, follow the conversation on twitter @zootvseries or www.facebook.com/zootvseries
#TheZooRTE
Episodes
Episode 1
There's great excitement for Gerry and the team at the elephant habitat as a calf is born to 17 year old female Asian elephant Yasmin.
The zookeepers are hopeful that Marlon, a recently arrived West African chimpanzee, will become the new alpha male and breed with the Zoo's resident females. However, how will the current alpha male Austin take to the newest addition to the troop?
And the keepers step in to help hand rear some recently hatched flamingo chicks
Episode 2
A litter of cubs is born at the Asian lion habitat to first time mother Suri and leader of the pride Kumar. When one of the cubs begins to lose weight, the zookeepers have to intervene to save its life.
Rhino keeper Ken travels to Zimbabwe to witness first-hand the battle between a conservation group, which is supported by Dublin Zoo, and the poachers who are intent on killing rhinos for their valuable horns
And at the African Plains, Helen and her team welcome a new arrival to the zebra herd as a new foal is born for the first time in many years
RTÉ One, Thursday, 7.00pm
Useful Links for Dublin Zoo