The Way We Worked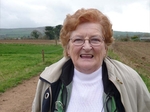 The second series of The Way We Worked tells the stories of women's work in Ireland from the 1930s and 1940s through to the 1980s. The six-part TV series looks at change in Ireland through the fabric of working women's lives.
Episodes
Episode One
In this first episode of The Way We Worked we meet women who have lived, loved and worked a lifetime of farming. The farm has always been both a business and a way of life for many Irish families. The farmer's wife had often an unacknowledged but pivotal role from book-keeping to stock rearing and milking.
Eileen Cronin grew up on a farm before she met and married Patjo Cronin. Together they worked their farm in Ballingarry, Co Limerick. After 14 years of marriage Patjo died from a brain tumour. Eileen was left with a broken heart, seven children under the age of 14, huge debt to the banks and a farm to run on her own.
Lily O'Donoghue runs a farm in Kilrush, Co Clare with her husband Patsy. Lily was responsible for the poultry and would often drive the tractor during hay cutting. When Lily and Patsy's seven children were reared, Lily returned to education and got a job with a community organisation.
Letty Cooke worked with her husband Billy on their farm in Kilcooley, North Tipperary. Letty kept poultry and geese, and reared their four children. She still takes a huge interest in the running of the farm and says 'you don't own the land you're just a caretaker'.
Episode Two
This week on The Way We Worked we meet three industrious women who turned their talent for home knitting into a source of extra income for themselves and their families.
Eileen O'Connell from Macroom, Co. Cork, learned to knit at school. The early death of her father meant she had to leave school early. She began knitting to help make ends meet at home, and even used bicycle spokes as knitting needles. Now in her eighties, she is an active member of the Macroom Knitting Circle.
Kathleen Meehan, from Glencolmcille, Co. Donegal learned to knit at her mother's knee. She went on to work part-time in local factories, supplementing that income with earnings from the sale of hand-knit clothes. She now sells her knitwear all over the world through her website on the internet.
Rosemary Slaughter was born on Arranmore Island, off the coast of Donegal, but had no interest in knitting when growing up. As a young girl she came to Dublin to work in Bewleys and Jacobs biscuit factory. She began knitting to pay for the little extras in her life, and soon her hand knits were in great demand. She's still busy knitting for friends and family.
Episode Three
This week The Way We Worked focuses on domestic service. Many rural women had to leave home in their teens to work as maids, housekeepers or nannies. They often worked long hours with little time off. The pay was meagre but the wages they sent home were vital for the family's income.
Nora Fahey from Dungarvan, Co Waterford went into service with a local family when she was four-years-old. She dreamed of becoming a nurse but her family couldn't afford to send her to secondary school.
May Giggin's father died when she was five. She had to leave school at 12 to work in a boarding house in Wicklow Town.
Maggie O'Connor from Wexford worked as a housekeeper with the same Dublin family for 55 years. She never married but become a beloved member of her employer's family.
Episode Four
This week's The Way We Worked is all about women working in shops. In the 1980s most Irish towns featured a draper, a hardware store, grocers and post office. In the days before supermarket chains they were often family concerns or a place where young women first found work. Most female workers left their jobs when they married but some were able to combine work and raising a family.
Kitty Drea from Co Kilkenny took over the post office in Inistioge, Co Kilkenny in 1960, when she was 23-years-old. She had six children but was normally back behind the counter within a week.
Dorothy Humphries started working in a drapery store in Cork when she was 15-years-old. She has often been on the picket line to fight for the rights of female workers.
Chris Kilboy ran a furniture shop and funeral home in Loghrea, Co Galway with her husband. When her husband Joe became sick, she had to take over the family business.
Episode Five
This week's The Way We Worked reveals the memories of Ireland's factory girls. As more factories opened up around Ireland from the 1940s onwards, the number of women working in them also grew. Many girls left school at 14 or younger to go to work and earn money for their families. The pay was often low when compared to men's earnings but an income was vital for a sense of independence.
Bridget Moran started working in a knitting factory in Bangor Erris in 1943 when she was 16. After six years she married and and re-settled to Meath as part of the Land Commission's
re-settlement programme.
Peig McManus, 72, left school at 14 to work in Varian's Brush factory in Dublin. Marriage meant she left her job, but when her children grew up, she developed a challenging new career.
Mary O'Connor started working in the Faber-Castell pencil factory when it opened across the road from her house in Fermoy
in 1955. She left to have children but later returned and went on working in the factory until it closed down in 1990.
Episode Six
This week The Way We Worked is set in the office. Many rural women moved to big towns or cities to work as secretaries, accountants, telephonists and civil servants. But before a bar was lifted in 1973, women had to leave work when they married.
Catherine Gunning from Clara, Co Offaly, was lucky enough to get a local job in Goodbody's. She was one of the first Catholics to get an office job in the Quaker company.
Hinda Duff from Swords, Co Dublin dreamed of a career in hotel management, but didn't have the right connections. She got a job as a telephonist instead and had great career ambitions.
Mary Lacey from Glenties, Co Donegal, moved to Dublin to work as a telephonist. The ban was lifted when she married in 1973, but she lost all her seniority when she returned to work as a married woman.
RTÉ One, Thursday, 8.30pm